Epson PowerLite Home Cinema 700 released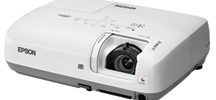 Epson released a new HD projector today that's a bit late to the game but does successfully fall below the $800 mark, though just barely. The PowerLite Home Cinema 700 sports numerous features and works hard to keep it high-end for a fairly reasonable price tag.
This projector is 720p and features a 3LCD lamp that can output at 2,000 lumens. It is equipped with a 1.2x zoom lens and can project up to 28.6-feet away with an image size of up to 270 inches. Interestingly enough, this model is being sold as a computer projector and uses a VGA adapter to receive PC input. HDMI, RCA and S-video jacks are also included, as are a USB port and an SD card slot.
One lamp should last up to 4,000 hours and it doesn't require a lengthy warm up. You can start using it almost immediately, which is a definite plus. You can get the Epson PowerLite Home Cinema 700 today for $799.