Epson LS500 Laser Projection TV packs a unique screen for daytime use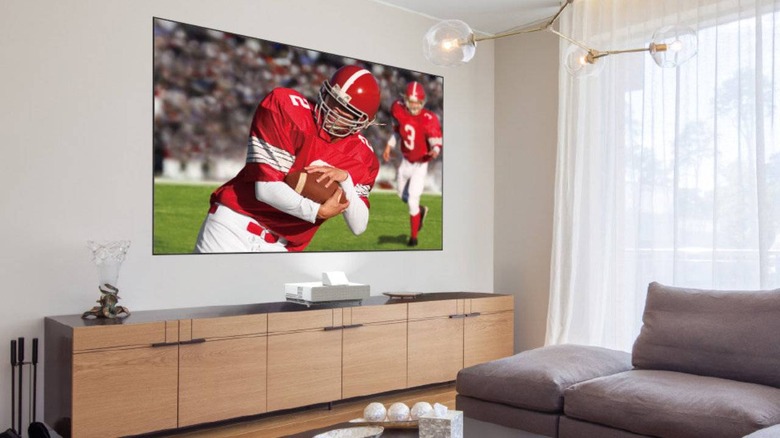 Epson has introduced a new short-throw projector and projector screen combo that it calls the LS500 Laser Projection TV. Though projectors are a fairly common element in home entertainment systems, they're typically reduced to movie night when the lights can be turned off and the room is dark. Epson's new Projection TV is different, aiming to become a daytime television substitute via the inclusion of a unique screen.
The LS500 Projection TV includes a short-throw projector with the company's own 4K PRO-UHD 3LCD tech, which offers HDR support and a dynamic contrast ratio above 2,500,000:1. As with other short-throw projectors, this device can be placed on a stand only inches away from the wall where the picture is projected, eliminating the need for an unsightly projector mounted on a wall or ceiling.
The unique aspect of the new model is its 'ambient light rejecting screen,' which is a projection display said to feature optical layering technology that can produce deep blacks and vivid colors, as well as an overall sharp and bright picture, in nearly any environment, including your ordinary daytime living room.
Of course, an ordinary television doesn't have any issues with picture quality in regular ambient light, but the new Epson projector offers one very big benefit over them: the ability to project a picture measuring up to 120-inches, offering a true home theater experience.
The projector packs a number of high-end features, including the ability to project 4K HDR video at 60Hz, 18 Gbps HDMI 2.0 support, a voice-enabled remote control for using Google Assistant, real-time 12-bit analog to digital video processing, plus Android TV and the large number of apps available on it. The company plans to offer the LS500 Projection TV with 100-inch and 120-inch screen sizes starting early next year for $4,999 USD and $5,999 USD, respectively.