Epson LS100 is an ultra short-throw projector for home theaters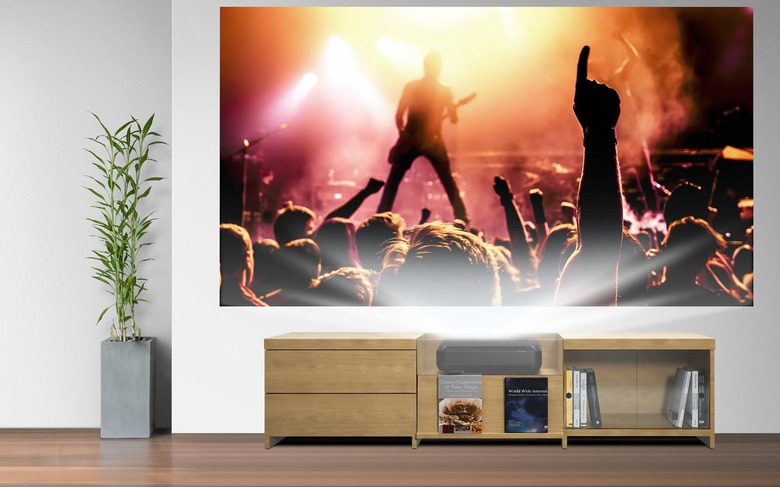 Typically a projector must be mounted at least several feet from the screen, meaning home and apartment owners often have to mount the projector on one wall and the screen on a different wall. That's a bulky, space-wasting problem for some, one addressed by ultra short-throw projectors — that is, projectors that can be mounted very closely to the projection screen. Epson has just launched such a model for home theaters.
Called the Home Cinema LS100 Full HD 3LCD Ultra Short-Throw Laser Display, this projector is described as being both compact and simple to use. Despite being positioned only inches from the wall, the device projects a clean, normal image free of shadows and other obstructions; the projected screen can span up to 10ft in Full HD resolution.
Epson says its technology ultimately produces a huge 2,500,000:1 contrast ratio, something that stands out among many projectors and televisions alike. This is paired with 4,000 lumens. The picture is visible on a wall or projector screen even if the curtains are open and the room is lit up, Epson explains, making it suitable for ordinary home use in lieu of a television.
There's 100-percent color brightness, Instant Off for turning off or firing up to max brightness within 5 seconds, and high-speed contrast control. Users are able to connect their cable and/or media boxes, as well as stream content from providers like Netflix. There are a total of three HDMI ports.
Because this model doesn't use the lamps that were once common to projectors, Epson says its model will last for 10 years or longer, and that it has a two-year warranty to go alongside it. The model doesn't come cheap, however, at $2,999 USD — Epson points out that such a price point is lower than what you'd pay for a TV with a comparable screen size. The model will be available starting this fall season.
SOURCE: PRNewswire