Epson FastFoto FF-640 can scan one photo per second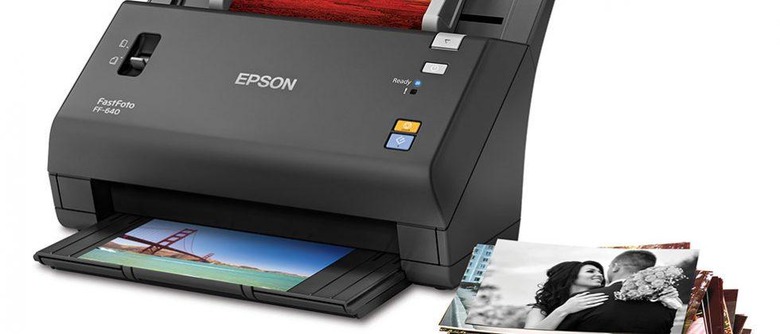 Epson has unveiled a new photo scanner meant to help people organize and restore their old photo collections. The scanner is called the FastFoto FF-640 and it was designed to help people save all those old photos from the pre-digital era easily and quickly by scanning a photo each second. In addition to scanning photos very quickly it can also restore faded photos to their original color.
Once the old photos are scanned and repaired, they can be stored to the cloud and shared on social media like Facebook or Instagram. "Whether it's for a Throwback Thursday, a photo slideshow for graduation, a wedding, or another life event, before today, digitizing photographs with a flatbed scanner or scanning service has been a time consuming and expensive task," said Larry Trevarthen, director, Commercial Printing and Scanning, Epson America, Inc. "Scanning shoeboxes of photos on a flatbed scanner can take hundreds of hours, and sending photos out to a scanning service is pricey and puts irreplaceable photos at risk of being lost or damaged. FastFoto offers a fast, easy and affordable solution for preserving a family's legacy."
The scanner has a 30-photo auto feeder allowing users to put a stack of old images into the scanner to be handled at once. The scanned images can be sent directly to a designated hard drive and the scanner offers tools to support uploading to cloud storage and social media including Facebook, Dropbox, and Google Drive. FotoFast will scan the front and back of a photo or postcard in a single pass, allowing it to capture dates or notes written on the back.
The scanner works for scanning items other than pictures with the ability to scan bills, invoices, home or business documents, or children's artwork. The scanner is TWAIN compatible and works with Windows or Mac computers. It also ships with OCR software to create editable and searchable and editable scans of documents. The FastFoto FF-640 is available now for $649.99.