Epic Store's next free game is a treat for puzzle fans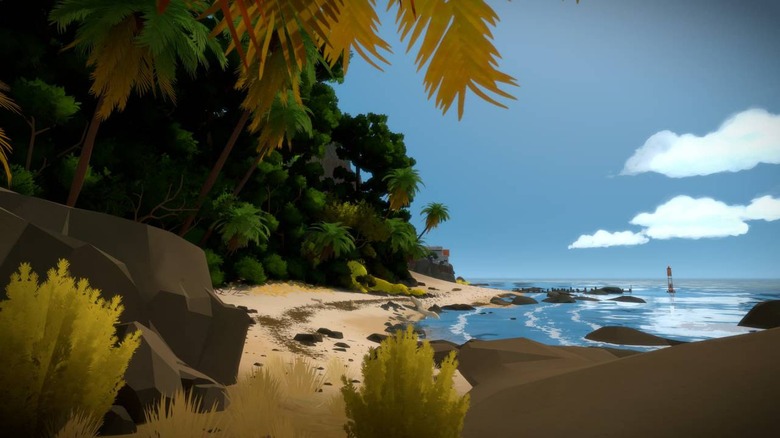 Ever since it launched months ago, the Epic Games Store has been attempting to draw new users in by giving away free games on a regular basis. Some of them, like Super Meat Boy, were already considered classics of the indie scene by the time they went free on the Epic Store, while others like Subnautica are more recent successes in the space. Epic's free offering just rotated again, and the new free game is another big one: Jonathan Blow's The Witness.
Usually priced at $40, Epic Games Store users can claim a free copy of The Witness anytime between now and April 18. You don't need to do anything aside from create an Epic Store account to claim your free game, but of course, Epic's hope is that you'll hang around and buy some other games once you've made your way through The Witness.
In The Witness, you play as an amnesiac adventurer who must explore a mysterious island in an attempt to regain your lost memories and find a way home. Your exploration is hindered by more than 600 puzzles of varying degrees of difficulty, so if you don't really fancy yourself a fan of puzzle games, you can safely sit this one out. Those who are fans of the genre, however, will find a lot to love in The Witness, which has become rather famous for the complexity of some of its puzzles.
Free games like The Witness are just one way Epic is trying to increase its slice of the pie in a market that has been dominated by Steam for years. The company also offers developers a better revenue split than Valve does for hosting games on Steam and – to a good amount of controversy – has also started paying developers to make their games exclusive to the Epic Store.
Borderlands 3 is the latest high-profile game to be announced as an Epic Store exclusive. When it launches on September 13, it'll be exclusive to the Epic Store for six months, meaning it won't be coming to other digital distribution platforms until April 2020. That announcement didn't sit too well with fans of the series, and seemed to dominate discussion of what otherwise should have been an exciting reveal.
In any case, assuming Epic's antics with exclusives isn't enough to make you swear off using its store entirely, you can pick up The Witness for free for the next two weeks. On April 18, The Witness will rotate out and Transistor will take over as the free game, at which point the next free game in line will be revealed.