Borderlands 3 release date confirmed, PC version exclusive to Epic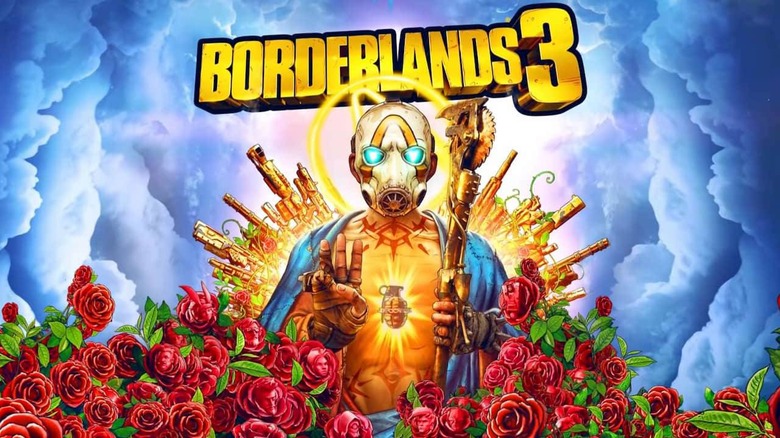 As promised, Gearbox revealed more details about Borderlands 3 this morning, including the game's release date. Unfortunately for Gearbox, some of this information leaked out before it had the chance to reveal it, but regardless, today's announcement is still bringing along plenty of new information. For instance, we had the chance to learn more about the four Vault Hunters we'll be playing as, along the villains they'll be up against.
First though, that release date. Just as prior leaks suggested, Borderlands 3 will be out on September 13. Gearbox has opened up pre-orders for the game, with four different editions in total. As outlined in the image below, the standard edition doesn't come with anything aside from the gold weapon skins pack, which is a pre-order bonus. The deluxe edition, meanwhile, comes with five content packs that include new skins for characters and weapons, mods, and "trinkets."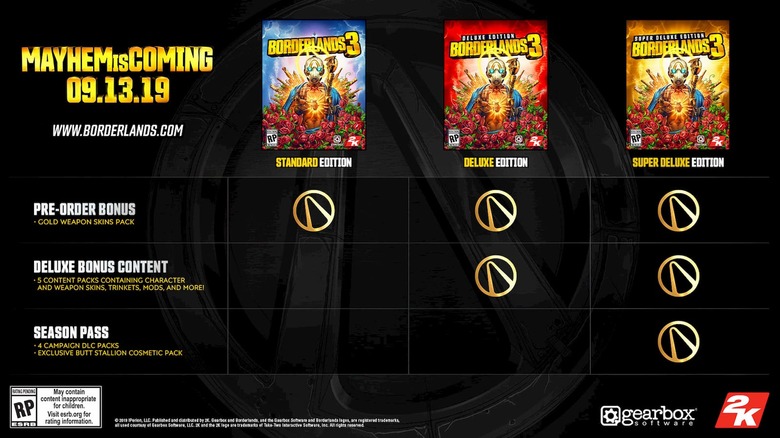 The super deluxe edition comes with all of the bonus content included in the deluxe edition, but also includes the season pass. The season pass will cover four campaign DLC and includes a Butt Stallion cosmetic pack, which is a nice little throwback to Borderlands 2.
Serious Borderlands fans who have cash to burn can also pick up the collector's edition, which among other things includes a replica diamond loot chest, various character figurines, a model of Sanctuary, and the content that ships with other versions of the game. You can see all that it has to offer in the teaser image below.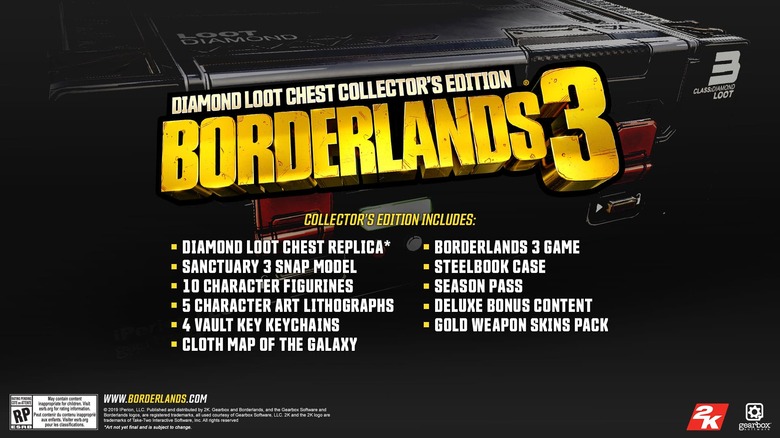 Though today's reveal didn't really show us any gameplay – that's coming later, Gearbox promises – we did learn who the game's four Vault Hunters are. First up is Moze the Gunner, who is able to create a mech called Iron Bear to assist in battle. Amara fills the role of Siren in this game, which means she's the one we've seen summoning those otherworldly fists.
Next we've got FL4K the Beastmaster, who can – you guessed it – command beasts to fight for him, though the type of beasts he'll be able to recruit is unclear at this point. The group of heroes is rounded out by Zane the Operative, who is "extremely proficient at slipping into combat, creating chaos, and sneaking back out as if he were never there."
Those four Vault Hunters will be going up against the Calypso twins, who are attempting to unite the bandit clans of the Borderlands and "claim the galaxy's ultimate power." Obviously, it's up the Vault Hunters to stop them from doing that. Though the game begins on Pandora – the setting for most of Borderlands 2 – Gearbox says that the story of Borderlands 3 will take players to different planets in the galaxy, with the potential of finding additional vaults.
That's pretty much all we're getting today in terms of story and gameplay details, but Gearbox says that it'll be back on May 1st with a worldwide gameplay reveal for Borderlands 3. Unfortunately, those who were worried by leaks that suggested Borderlands 3 would be an Epic Store exclusive on PC also had those fears confirmed today. Borderlands 3 will indeed be an Epic Store exclusive at launch, but it won't stay that way forever as Gearbox says the game will launch on other digital platforms in April 2020.
The Epic Store's approach of paying for exclusives to draw in more traffic has left a sour taste for many. This exclusivity period will probably come under similar scrutiny from the gaming community, despite the fact that we're talking about a game as anticipated as Borderlands 3. For now, we'll wait and see how it all shakes out, and we'll have those gameplay details for you on May 1st, so stay tuned for that.