Epic Mickey 2 gets behind-the-scenes video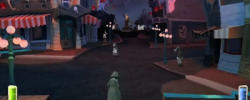 If you were curious about what the sequel to Disney's captivating dark-sided Mickey Mouse game will be like, you're in luck. The newest video for Epic Mickey 2 takes players behind-the-scenes and shows them waht they can expect when the intoxicating mix of cute and innocent Disney characters meets a dark, mysterious world.
Epic Mickey was one of the big holiday titles of 2010, and at the time everyone looked at it as a Wii exclusive. But the people behind the game never said it was tied exclusively to the Nintendo console. In fact, they even went on record saying they would want to bring it to other platforms if they were asked.
Well, it looks like other companies asked because Epic Mickey 2 is coming to the Xbox 360 and PS3 as well as the Wii. The new game's official title will be Disney Epic Mickey: The Power of Two. As you might expect from that title, multiplayer gaming will be encouraged, with a full cooperative gameplay mechanic. There is no confirmed release window yet for the new game title, but it will be on display at next month's E3 trade show.