Epic is dropping a bunch of cryptic Fortnite C2 Season 2 teasers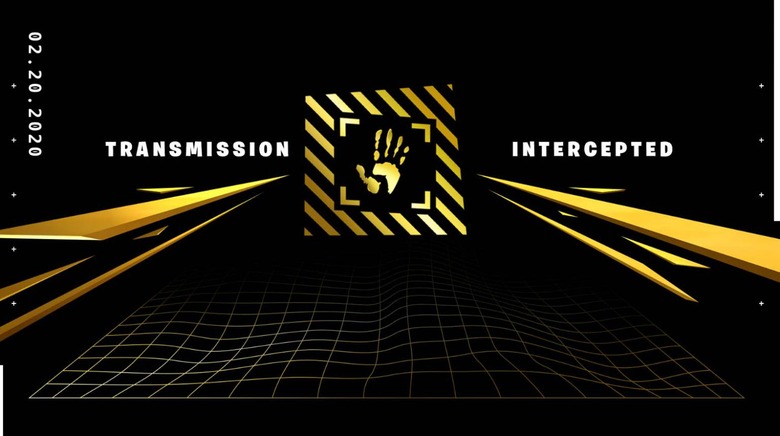 Finally, after four months of waiting, Epic has started dropping a bunch of teasers for the next major update to its hit battle royale game. On its Twitter account this week, Epic has released a series of images — three, as of Monday — teasing some big change that will arrive with the game's Chapter 2, Season 2 (C2S2) update, ones that involve a black-and-gold color scheme but precious few actual details. Fortunately, we won't have to wait long.
Epic introduced the major Fortnite Chapter 2 update in November 2019, something that ushered in a new island and that was very exciting...for the first several weeks. The game has since stagnated with no truly new content; the biggest shakeup involved the Star Wars crossover that added some Stormtroopers and lightsabers to the game, but that wasn't enough to keep everyone happy.
Transmission Intercepted
FN.CH02.S02
████ == ████
████ pic.twitter.com/bSBptnLTWY

— Fortnite (@FortniteGame) February 17, 2020
On February 20, following a previously announced delay, the second season in Fortnite's second chapter will finally be released. Players have no idea what to expect from this update, but it will no doubt be a major one (at least, we should hope so). There's some speculation that Epic may be planning to flood the island, but the evidence for that is shaky at best right now.
Transmission Intercepted
FN.CH02.S02
Origin == ██
████ pic.twitter.com/3TdzvENwU8

— Fortnite (@FortniteGame) February 17, 2020
The company isn't helping with its three newly released teasers — fans have no clue what they mean and there's little incentive to try and figure them out considering that we're so close to the next update. The teasers include a blurred out face, words in various languages that indicate some type of 'helper' is inbound, and the date 02/20/2020. Whether Epic delayed the update to get that 2-centric release date is unclear.
Teasers in these images and tweets include the word 'Origin,' some coordinates, and 'Transmission Intercepted.' One bit of imagery shows a storm, another shows the EGO logo, and yet another shows a large ship. Game leaker HYPEX has added a new piece to the puzzle, finding three specific coordinates indicated by the tweets:
When you call this German number "+49 800 1808471" it says "D3, G4, F2" pic.twitter.com/th96x9Xcp4

— HYPEX (@HYPEX) February 17, 2020
The locations are near Dirty Docks, Frenzy Farms, and Pleasant Park. It's unclear what will happen at these locations, however. We'll know on Thursday when the next update is released.