Envive TheaterStation Multi-zone Media Management system debuts at CEDIA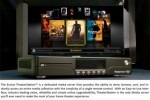 A few weeks back I talked about the Envivie 4TB green TheaterStation intended to allow users to stream media around a home or office. Envive has announced another new product at the CEDIA expo this week that streams media to multiple zones in a home or office.
The product is called the TheaterStation Multi-Zone Digital Media Management System. The multi-zone system is designed to allow media enthusiasts to access their media content from anywhere in the home with the touch of a button. The company also announced along with the multi-zone system a TSClient Mini and 1U and 2U rack mount solutions for the TheaterStation server.
Envive's system is upgradable once installed with more hard drives for additional storage, and more client stations can be added to other rooms of the home. The TheaterStation supports AVI, MPEG2, MPEG4, WMV, DVD ISO, H.264, and VC1 along with non-DRM audio files. The TSClient Mini sells for $1995 and the server priced at $2995 (1TB), $3795 (2TB), and $4795 (4TB).