Envive unveils 4TB Green TheaterStation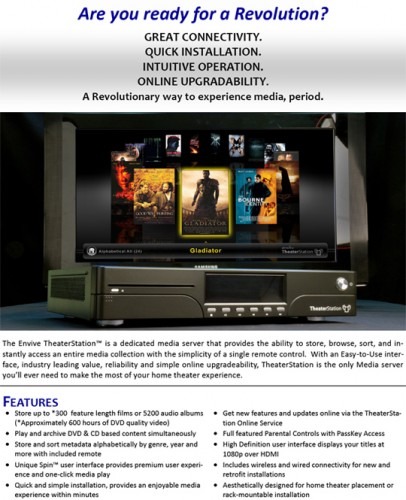 Streaming media around a home or office is a great way to share entertainment that can be controlled and stored on one central server. A company called Envive offers several streaming content servers called TheaterStation along with clients that allow music and video to be streamed to more than one location.
The company has announced a new green TheaterStation server with 4TB of storage built-in. the server uses the Western Digital line of green hard drives to save on power consumption. The TheaterStation TS2500 claims to be the world's most environmentally friendly media server. The company also promises to offer a 4TB external back up solution by Q4.
Envive has also announced a new software update for its line of TheaterStation Clients that offers major improvements like support for clients, improved Wi-Fi connectivity, and an enhance OSD for music control and improved support for HDTVs when connected via HDMI.