Energy net-zero Eco-home is iPad and Kinect controlled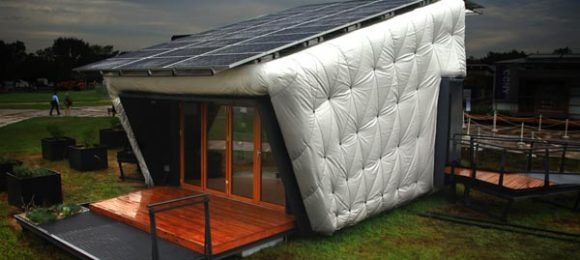 A net-zero energy house concept could actually feed power into the grid using a bank of solar panels and innovative exterior insulation cladding, without sacrificing either style or geek-appeal. CHIP – or Compact Hyper-Insulated Prototype – is the handiwork of students from the Southern California Institute of Architecture (SCI-Arc) and California Institute of Technology (Caltech), wrapping a thick thermal envelop around a house controlled by an iPad and a Kinect sensor bar.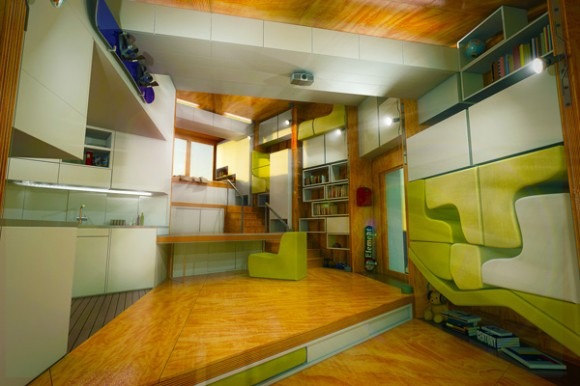 The wedge-shaped structure consists of various stacked layers, with the more private areas of the house – such as bedrooms – shifted further back and away from public view. Modular and pull-out cabinets, seating and other furniture increases flexibility in use, while the bathroom is a wetroom with a sunken bathtub.
Up to 45 solar panels can be mounted on the roof, providing three times the energy than the CHIP home actually requires. LED lighting and wireless switches mean less power, fewer bulbs and no complex tangle of wiring, while HVAC energy use is reduced by implementing a large water storage tank. This maintains a thermal load, cutting down on water-heating costs as well as drawing off excess heat in summer.
As for tech, the iPad is used to remotely control the wireless ZigBee Control4 lighting and other kit, as well as show real-time information on power consumption, while the Kinect means you can control the CHIP's various systems using gestures and pointing. Sensors mean CHIP can turn on specific hardware when you sit in certain chairs, close blinds when it's bright, and automatically lower shutters to avoid passive heating.
The 750 square meter house is an entry into the U.S. Department of Energy Solar Decathlon.
[via SmartPlanet]