Encrypted ProtonMail opens service to public, mobile apps ready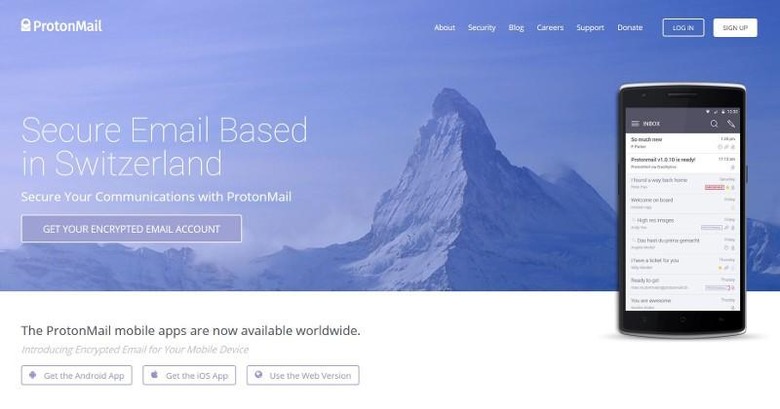 The fight between Apple and the Justice Department over the San Bernardino shooter's iPhone has once again put the spotlight on security, privacy, and encryption. The last time that was a hot topic was nearly 3 years ago at the height of the "Snowden Files". Born out of that very same controversy, Swiss encrypted email provider ProtonMail has seen it fit to finally open up its service to the general public, removing the invite-only barricade for individuals and groups to sign up for an end-to-end encrypted secure e-mail service.
To be more specific, ProtonMail was practically born from the ashes of the now defunct Lavabit. Back in 2013, the e-mail provider, already a favorite of privacy conscious netizens, got dragged in the controversy that surrounded Edward Snowden's whistleblowing. Going against the US government's demands to hand over private encryption keys, Lavabit decided to close down its services instead. ProtonMail launched in a private beta a year later to fill in the shoes that Lavabit left behind.
ProtonMail has a few safeguards in place to prevent another Lavabit ending. It employs end-to-end encryption, which practically means that neither government nor ProtonMail can access those emails. Almost like Apple's own encryption implementation, the Swiss company has no keys to hand over to the government. In addition, its operations are based in Switzerland, long known for its hard-line stance against invasions of privacy by governments.
ProtonMail's public launch is both opportune and perhaps risky. Security and privacy vis-a-vis law enforcement is once again a hot topic. The situation can both bolster ProtonMail's popularity but also place it under scrutiny of governments like the US and others, like the so-called Five Eyes. The company's Swiss roots might be, for now, a safe haven, but even Switzerland is experiencing rather worrying changes in that regard.
As for the service itself, ProtonMail was originally available only via a web browser but now has Android and iOS app readily available. The source code for the web browser client has been open sourced and the mobile versions will follow suit in the near future. Basic accounts are free but ProtonMail also offers paid tiers that offer more, bigger quotas, and priority support.
SOURCE: ProtonMail