Emvio stress-reducing smartwatch adds zen to your life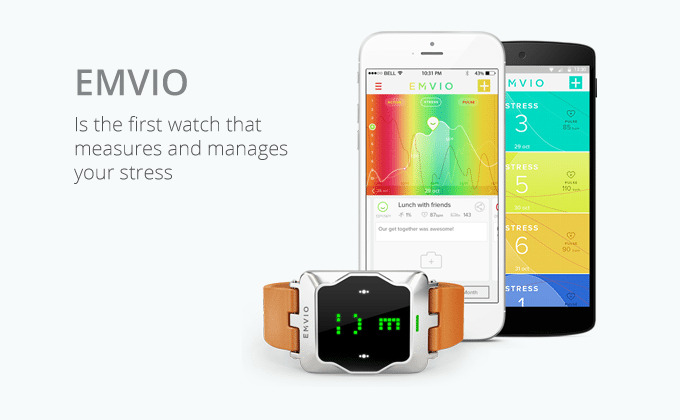 Emvio is the a smartwatch that is the antithesis to practically every other smartwatch on the market. "Emvio" means "to live" in Greek, and its designers want you do just that with their new, stress-tracking smartwatch. Emvio isn't the first stress-tracking smartwatch, but it aims to go above and beyond as it measures your stress level on a scale of 1 to 10 and notifies you when your stress level raises. Sure, we all notice when we fly off the handle, but sometimes we operate unaware we're pumping cortisol in a giant negative feedback loop of stress.
Stress can be a powerful motivator. How else would be have to impetus to get through unwanted tasks? Stress can also have a real, negative impact on our lives. So, how can a smartwatch actually reduce stress? Most smartwatches are centered around notifications, which amount to things we need to see but really don't want to deal with, like emails, conference calls, and voice mail.
Emvio alerts you on your wrist when you're getting stressed. After your stress level stays high for too long, Emvio connects with your smartphone to display tips on how to manage your stress. So, you might be nudged to "pet a cat." Honestly, who doesn't want to pet a cat?
With so many different trackers for every purpose under the sun, what appeals to me about Emvio is that it charts your stress levels throughout the day in addition to tracking heart rate and physical activity.
In my mind, knowledge is power, and it would be neat to see what kind of patterns emerge from my own daily life. Sure, we all get stressed, but some stress is what drives us to complete banal tasks. It's the residual effects of long-term stress that can eat away at us, and I would be interested to see whether another device is really the solution to de-stressing.
There's no word on what Emvio will retail for because they are still in their crowdfunding stage. To give us an idea of the price, pledges as low as $129 USD will get an Emvio.
Check out Emvio on Kickstarter!
Source: Kickstarter