Eminent iTrio for Wireless HDTV breaks cover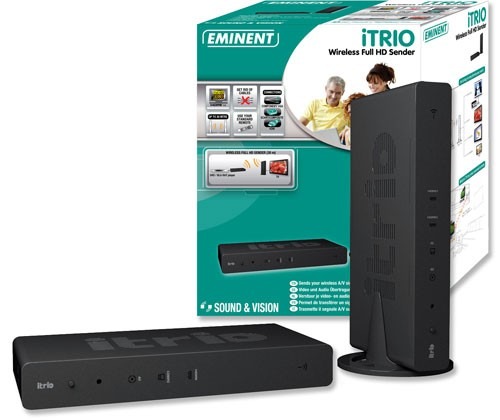 One of the biggest problems with home theaters for most of us is the gobs of wiring that is needed. The wires are especially challenging in large rooms or when you are wall mounting your HDTV. In these instances, the best way to connect your devices is via wireless tech.Eminent has unveiled a new system called the iTrio for wireless HDTV. The kit includes a wireless EM7100 iTrio HD sender that allows the user to place their Blu-ray player and wires away from the TV set and stream wirelessly.
The system supports full 1080p resolution and has a pair of HDMI connectors allowing for two devices to be connected. That means you can connect your PS3 and HD cable box for instance. The system also has a SCART connector and includes the needed receiver that is placed near the TV. The system will ship on April 24 at an undisclosed price.