EMC, Lotus jumps a truck over an F1 car, sets world record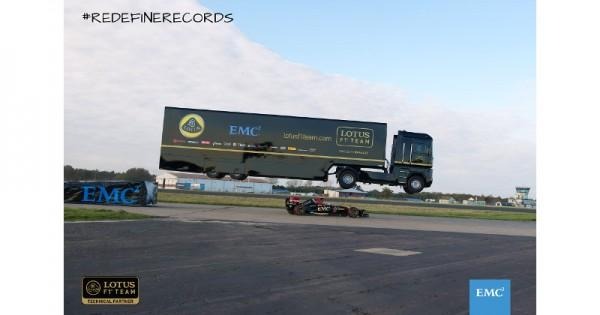 Some people, when they're bored, try to perform some stunts, sometimes hilarious, sometimes mindless, and sometimes just plain out of this world. But when new friends EMC cloud storage and Lotus Formula One get bored, they make a truck jump over an F1 race car. Yes, this is today's serving of "do not try this at home or on the road." That said, the death-defying stunt is undoubtedly awesome, and it is made even more awesome by the fact that they nabbed the Guinness World Record for highest truck jump.
So the big question is "why". But then again, why not? After all, it falls under EMC's new mission to "redefine motorsports". This new found interest came into place when computing firm EMC struck a partnership with Lotus to trek the road together towards a Formula One title. It might be a strange partnership at first glance, but even race cars need a lot of computing power and data storage for maintenance and development.
Whatever their reason, they managed to pull it off without a hitch. The result: an astounding 83 feet and 7 inches. It's a stunt best seen to be believed, so here it is in all its cringe-worthy glory.
And in case you do get some crazy ideas for your next crazy stunt, do know that the drivers involved in this world record are professional stunt artists. Driving the truck was Mike Ryan while behind the wheel of the Lotus was Martin Ivanov, both with parts played in films like The Fast and the Furious, James Bond, and Bourne.
SOURCE: EMC, Guinness World Records