Lenovo Yoga Tablet 10 HD+ arrives with Full HD display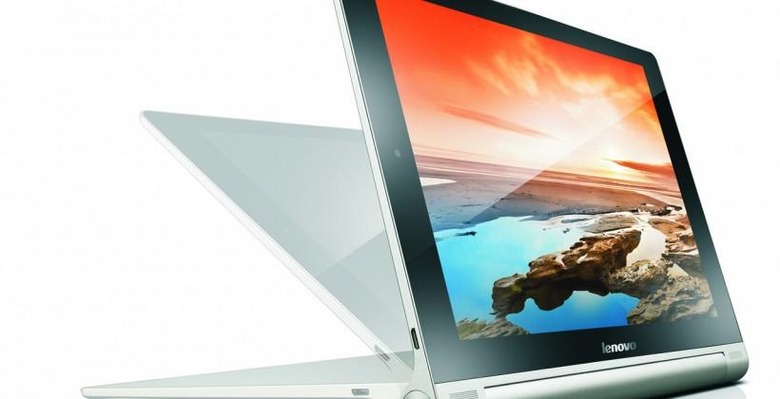 has announced its latest Yoga offering, the Lenovo Yoga Tablet 10 HD+, a three-mode device that builds upon the maker's original
foundation. With this latest model comes the familiar three-mode structure, with the addition of spec'd-up hardware and five of Lenovo's DOit apps.
The tablet was announced today at the
, and with it comes a 10.1-inch 20/20 Vision Full HD 1920 x 1200 pixel display, which adjusts automatically to the user's ambient lighting conditions. Beyond the improved screen, the Yoga Tablet 10 HD+ offers a Qualcomm Snapdragon 400 quad-core processor under the hood.
Beyond this, the latest Yoga offering features Dolby Audio, a micro USB port, an 8-megapixel rear camera, and runs Android 4.3. The battery holds steady at the Yoga Tablet 10's 18 hour battery life, and as mentioned, it features the Hold/Tilt/Stand options. Rounding it all out is the inclusion of Lenovo's DOit apps, which we detailed today.
Said Lenovo's Mobile Business Group Vice President of Marketing, Jeff Meredith: "People have told us they love the YOGA Tablet for its clever design that gives them a better way for all the different ways they use tablets. Now we've created the new YOGA Tablet 10 HD+ to give consumers the ultimate multimode tablet experience, packing it with premium technologies from a gorgeous screen to faster processor to user-centric software."
The YOGA Tablet 10 HD+ will be available in April starting at $349 USD.