eMachines eMD620-5777 $430 bargain laptop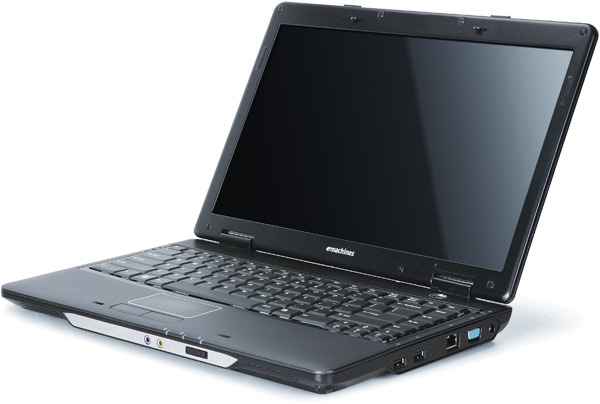 Family pestering for a new laptop this holiday season but economics leading you down the netbook aisles?  Think again: eMachines are offering their full 14.1-inch widescreen notebook, the eMachines eMD620-5777, with a 1.6GHz AMD Athlon 2650e CPU, 1GB of RAM and a 160GB hard-drive for a madly affordable $429.99.
As well as a grown-up processor (admittedly not one that will cause Alienware fearful chills), you get a full-sized, ergonomically-curved keyboard, WiFi b/g, a SuperMulti DVD-R/RW drive and ATI Radeon x1200 graphics (with up to 1919MB of ATI HyperMemory).  Strangely, despite the extra case room, the eMD620 drops a USB port over the usual netbook total, having just two.
Obviously some will prefer the super-portability of a netbook, but you can't argue with the price.  The eMachines eMD620-5777 is available today from Best Buy stores.
Press Release:
IRVINE, Calif., Oct. 30, 2008 – The eMachines eMD620-5777 debuts today, giving consumers all the essentials of mobile computing at the incredibly affordable price of only $429.99.

The new notebook combines the latest in popular and useful features with trusted technology, making it ideal for challenging coursework, multimedia school projects, home productivity, research and staying in touch.

"The new eMachines is a great way for customers to get everything they need in a notebook at a really exceptional price – something that's welcome in today's challenging financial climate," said Ray Sawall, senior product manager for Acer. "The new eMachines eMD620-5777 notebook is ideal for students, families, small business professionals and anyone on a budget who wants to enjoy the benefits of mobile computing. Plus, the new eMachines eMD620-5777 notebook gives families an affordable way to get an additional PC in their home, without having to set aside a dedicated space for it."

With a fast AMD Athlon™ 2650e processor (1.6GHz, 512MB L2 cache, 800MHz FSB) and a full 1 GB of DDR2 memory, the eMachines eMD620-5777 is ready to perform on the go. It also features integrated ATI Radeon x1200 graphics, with up to 1919MB of ATI's HyperMemory, so video and graphics look great.

The notebook's size is designed with portability in mind. Its 14.1-inch widescreen display is perfect for watching DVD movies and viewing multiple applications at once, yet the chassis is still compact enough to comfortable carry in a backpack or book bag. Also, staying in touch on the go and is a snap with the notebook's 802.11b/g WiFi wireless that connects to hot spots and wireless networks on campus, at home and at many popular restaurants and hotels.

After projects for home and school are complete, students and their families can enjoy digital media hobbies, entertainment and games. The Super Multi-format DVD-R/RW drive plays DVD movies and can burn music, video, photos and other content to DVDs or CDs using the preinstalled Corel WinDVD and NTI CD/DVD Maker software. Consumers can store and share their digital media with the notebook's large 160GB hard drive and a Super Multi-format Dual-layer DVD-RW drive.

Listening to music and movie audio is enjoyable with the notebook's high-definition audio support with two built-in stereo speakers, headphone/speaker jack and microphone jack. Plus, two USB 2.0 ports make it easy to connect popular peripherals and digital media devices, such as MP3 players, cameras and camcorders.

Useful software abounds on the eMachines eMD620-5777 notebook. It comes with Windows Vista Home Basic for fast handling of applications. The notebook also comes preinstalled with eMachines GameZone – a sampling of popular online games as well as Adobe Reader for reading PDFs, and Microsoft Works 8.5 with Office Home and Student 2007 Trial for productivity. To keep customers safe, the notebook also comes with a 60-day trial of Norton 360 Version 2.0.

Pricing, Availability and Warranty

The eMachines eMD620-5777 will be sold by Best Buy beginning Nov. 1, 2008 at the price of $429.99.