Elon Musk's Hyperloop 3D printed to show what could be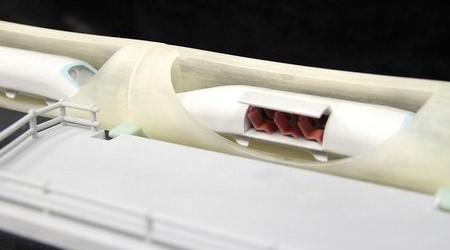 After mentioning it earlier this year, Elon Musk of Tesla and SpaceX fame released detailed information on the Hyperloop he imagines, something that could quickly transport passengers from one location to another. To give the curious and ambitious a better look at what could be, the plans have been rendered and 3D printed to scale.
The work was done by White Clouds, a company that pitted five designers to transform the plans released by Musk into a 3D model that was true-to-scale. That task was accomplished in 24 hours using SolidWorks, 3DS Max Design, and Maya. From that point, the 3D model was used to print the physical model, which was a bit more involved than one might expect.
A total of three printers were used to print the various parts for the model: the ProJet 3500 HDMax for the tube using clear resin, the ZPrinter 650 for the platform and pods, and the Connex 500 for the pillars upon which the tube is perched. The work that went into it served to show the company "how large this project really is."
Said White Clouds' CEO Jerry Ropelato: "When we saw the plans that Elon Musk was laying out for the future of transportation, we were really excited about the technology aspects and wanted to help promote the concept through 3D printing ... It took us 21 hours from concept to final build. To combine the finished three parts took five minutes. That was part of the beauty of 3D printing, allowing us to easily connect the various parts."
What will it take to make the Hyperloop in full? In an abstract, Musk had suggested it would cost $1,350,000 USD to build a crew capsule, with the entire system being a hefty $54 million USD. Those who are interested can check out the entire concept in all its glory over at Tesla Motors.
SOURCE: Tom's Guide