eLocity A7 Android 2.2 tablet hits pre-order on Amazon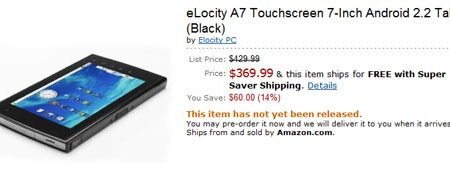 We may receive a commission on purchases made from links.
Remember that eLocity A7 Android tablet I talked about last month that we were supposed to get more details on shortly after it was announced? The tablet is now officially available for pre-order an Amazon with all the hardware details in tow.
The A7 has Android 2.2 as the OS, a 7-inch screen, and has 512MB of DDR2 RAM. Other features include NVIDIA Tegra II T-20 processor with a 1MB L2 cache, 4GB of internal flash storage, and a 1.3MP camera. The device also has 802.11b/g WiFi, Bluetooth, 1080p HDMI output, and a USB 2.0 port.
The A7 tablet measures 8.2" x 4.8" x 0.5" and it weighs 1.02 pounds. The tablet will sell for $369.99 and ships free on Amazon. The ship date is not specified. That price seems a bit expensive to me, what do you think.