Ello review: it's not the 'anti' anything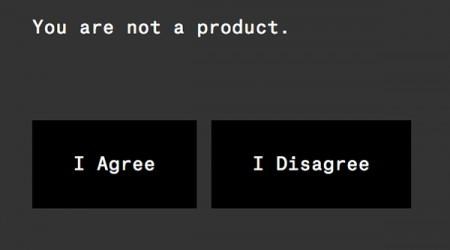 You've probably seen Ello pop up on your RSS feed (or however you happen to keep up with information) over the past few days. The new social media site has been dubbed the "anti-Facebook", due to its strikingly sparse interface and promise to not make you the product. To gauge how accurate that is, I went inside to discover what Ello is, and who it isn't for.
To my mind, Ello is like any other bootstrap startup. It's simple, pretty effective at one thing, and simple enough to grasp. Those who try to over-complicate Ello do it a disservice. It's social, just a different take on what that is, and means.
For Ello, the goal is to feed you info on a macro scale. It's like a warehouse full of people who somehow heard that there was a party there. A party may happen, but we're all a bit early to the event. You know, if a party actually breaks out.
Posting is dead simple, and you can mention people you follow via the familiar "@" tag. Finding new users is easy via "discovery". You can upload pics or GIFs to a post, too. That's really about it. Being beta, there aren't many bells and whistles yet.

Though simple, Ello might suffer from being a bit too open. It's social without boundaries. You don't have to use a real name, a picture, or even give any info about yourself. If you like vacationing in Ibiza, Ello will speak to you. They still ask for responsibility from users, but that's self-regulation, and social media doesn't lend itself to that.
That's not to say Ello is void of reason or cause, though — it's just different. Their ethos is that you aren't the product, but that's a bit obfuscated by a few facts. They've raised nearly half a million dollars in venture funding, and will charge for features down the line.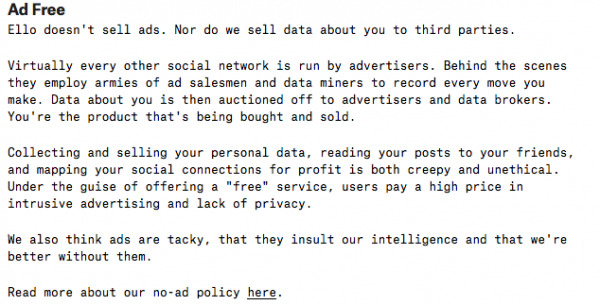 To their credit, backers say they're fine with Ello's current trajectory. Ello also doesn't seem to be aiming for a big spend from users. Things like managing multiple accounts with one log-in will cost around $2. That's not a lot, but could speak to the true aim, here.
The site doesn't have ads, and they aren't interersted in having them. Unless they can find Angel investors who are willing to blindly toss cash at them forever, they'll need to monetize. That's where you come in.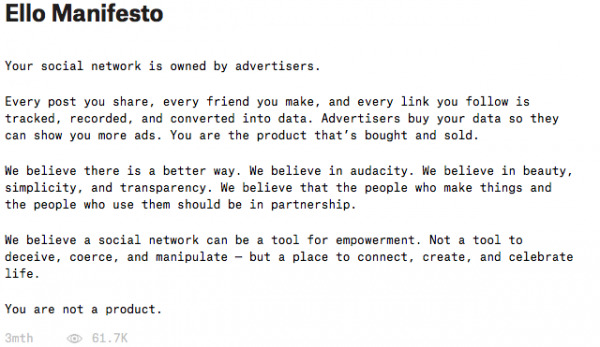 Ello has a laundry list of to-do items, like the aforementioned log-in. Their list of features to be added doesn't mention if you'll need to pony up some cash to use them, though. The basic features are, and will likely remain, free. That strategy works for time-waster games on your iPad, but can a social site sustain that?
The rules clearly outline who is welcome to use Ello, with things like "Don't threaten people" or "Don't hate" prominently displayed. Still, the lack of a real name policy makes those rules easy to sidestep for the willing.
Ello has no ads. It has few users, but is growing quickly. You can "friend" someone (cool anti-Facebook move, Ello), or add them to "Noise", which is a bit like keeping an eye on them sans connection. It's a simple way to manage your feed stream, and like everything else Ello, simple.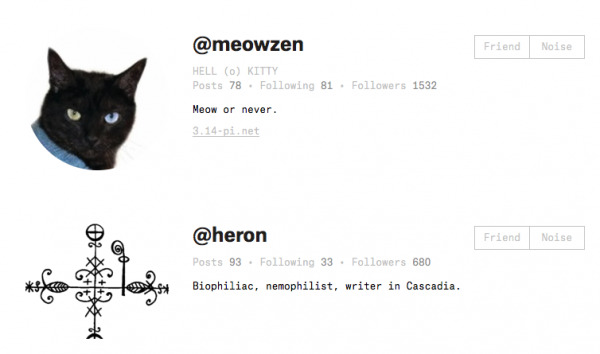 Ello won't be for everyone, and it's a weird little site right now. It's like Tumblr in that it has GIFs, but also a lot like Medium in format and fit. Ello is social, but not as formal as Facebook. You get info, but not as quick or as much as Twitter.
Is Ello the anti-Facebook, as so many have put it? Not really. Ello is a fresh look at social, but it's still social. You still need to know people, or get to know them. No social site is the anti-Facebook. That's like saying Facebook was the anti-MySpace. It wasn't, it was just different.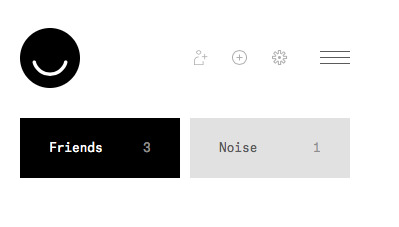 Ello is also different. It's also beta (in so much that their search feature wasn't working for me). Ello also isn't for everyone, nor are they trying to be. It's not an "anti-Facebook", or "punk rock social", or any of the other tags people give it.
It's just Ello. Don't label it, just try it.