Elio Motors P5 prototype boasts 84mpg efficiency from a 0.9L 3-cylinder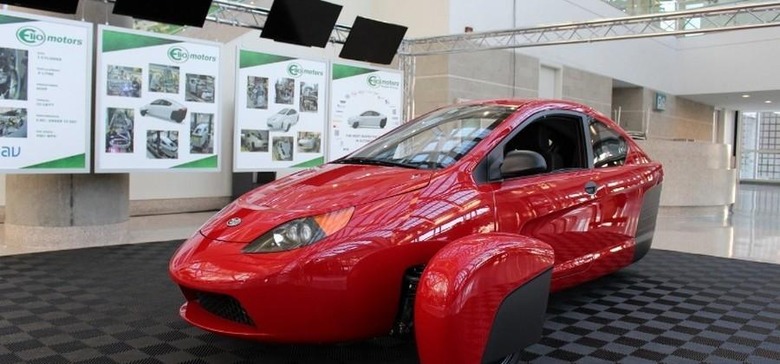 Elio Motors was on hand at the LA Auto Show with its latest prototype car called the P5. One of the big claims to fame for the P5 is the price of $6,800 brand new. The main reason people want to buy the P5 will be the fuel economy of the little three wheel vehicle.
Elio Motors says that the car should be good for 84 mpg on the highway, about twice what normal cars are able to get. The reason the car is so fuel efficient is that it is lightweight and uses a tiny motor made just for Elio by IAV.
The motor is a 0.9L 3-cylinder unit and can push the P5 to a top speed of 100 mph. The car can also accelerate better than you might thing with the ability to hit 60mph in 9.6 seconds. Elio made the P5 slightly longer than previous prototypes and it is a bit more aerodynamic as well.
The interior of the P5 is revised to make it nicer and more comfortable. The rear seat has been lowered an inch for more headroom and the seats have more foam for comfort. It's still unclear when the Elio Motors P5 might hit the market, but so far over 47,000 people have made a reservation for the car.
SOURCE: