Elgato Thunderbolt 3 Dock can drive two 4K 60Hz monitors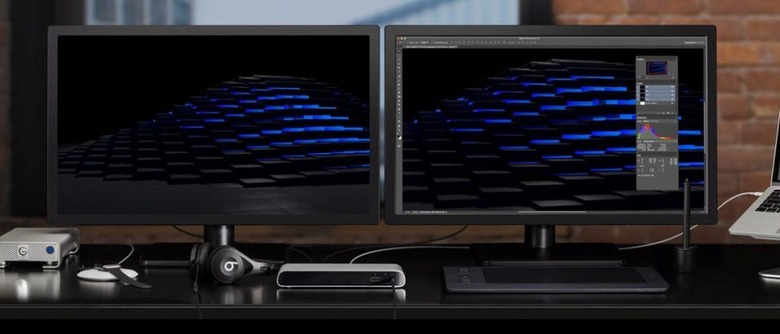 Elgato has introduced its soon-to-launch Thunderbolt 3 Dock, a device that supports dual 4K displays, laptop charging, fast data transfers, and more. The dock, like ones before it, is designed for demanding laptop users who need to, at times, use a full workstation comprising external monitors and, perhaps, an external storage drive or two. The dock is designed for both Windows and macOS laptops.
The Elgato Thunderbolt 3 Dock features two USB-C ports and can support up to a 5K display. Users can connect two displays at once with the dock supporting up to a 4K-resolution and 60Hz frame rate each. There are also three USB 3.0 ports for other items and integrated Gigabit Ethernet for a wired connection.

The Thunderbolt 3 Dock also has an amplified audio output and a microphone input, and software for ejecting all the storage units connected to the dock at once. Users can also charge their notebook with up to an 85 watt charging cable. There's also a Display Port for driving a display up to a 4K resolution.
The full port specs are as follows:
- 2x Thunderbolt 3 (USB-C) with support for Thunderbolt (40 Gb/s), Computer Charging (up to 85 W), Device Power (up to 15 W), USB 3.1 Gen 2 (up to 10 Gb/s), DisplayPort (up to 4K at 60 Hz)

- 1x DisplayPort with support for DisplayPort 1.2 (up to 4K at 60 Hz) and HDMI 1.4b (up to 4K at 30 Hz)

- 1x RJ45 10/100/1000BASE-T Gigabit Ethernet

- 3x USB 3.0 (5 Gb/s, 1.5 A, USB Battery Charging 1.2 & UASP)

- 1x 3.5 mm Headphone Output (amplified analog stereo)

- 1x 3.5 mm Microphone Input (mono)

- 1x Power Input (DC 20 V, 8.5 A)
The dock will be available the first quarter of this year at Apple Store for $299.95.