Elgato Thunderbolt 3 Dock to clean up desks next month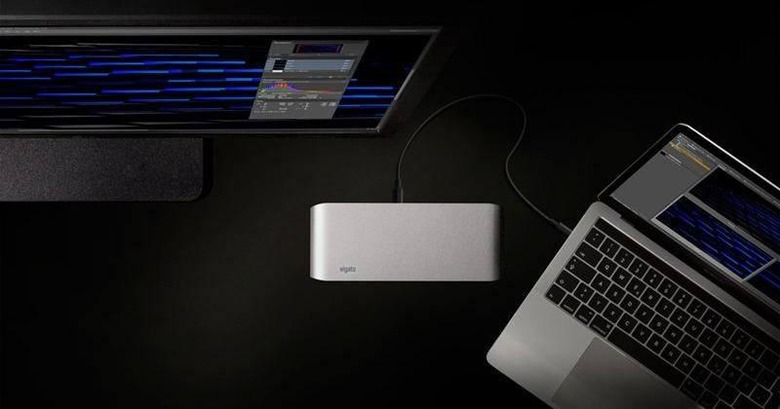 We may receive a commission on purchases made from links.
Yesterday, Intel reveal its big industry push to make Thunderbolt 3 the de facto standard in wired connectivity. It enumerated the benefits of this technology, which is basically a beefed up USB-C connection. One of those is the ability for a single cable to do everything from power to data to display. No where is that going to be more evident than in Elgato's Thunderbolt 3 Dock specifically designed with the new MacBook Pro in mind and finally shipping next month.
Apple giveth and Apple taketh away. In its newest MacBook Pros, however, it has taken away more than it has given. Specifically it has removed almost all holes save for 2 or 4 Thunderbolt 3/USB-C ports. Fortunately for users, accessory makers like Elgato are coming to the rescue.
Announced back in January, the Thunderbolt 3 Dock boasted of a feature list which would have been nearly impossible with older connections and even a plain USB-C. It is capable of supporting two 4K displays, among other things. It also has ports for one more Thunderbolt 3/USB-C connection, Gigabit Ethernet, three USB 3.0, a headphone jack, and a mic plug.
The real magic with this dock is that it does all that with only a single cable connecting to a MacBook Pro, or really any computer that supports Thunderbolt 3. So you can hide all those other cables and have only one wire bridging the Dock and the computer itself. That same cable also charges the MacBook at the same time.

The Elgato Thunderbolt 3 Dock is finally shipping starting 6th June and could have come at a better time for Thunderbolt 3 proponents like Intel and Apple. Initial price was set to $299.95, but be sure to keep tabs on the link below for the exact figure when it launches.