Elfoid P1 humanoid cellphone is bizarre telepresence attempt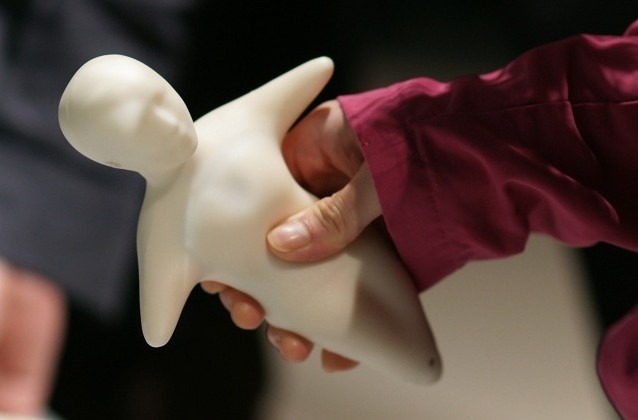 Back when we were initially befreaked by the Telenoid R1 robot midway through 2010, the last thing we wanted was a pocket-sized version of the creepy, fleshy telepresence 'bot that could lurk in our pocket. Unfortunately that's just what Osaka University researchers – along with NTT DoCoMo and Qualcomm – have done, designing the 8-inch long Elfoid P1 cellphone.
As before, the concept is to give users a sense of the physical presence of the person they're communicating with, with cameras and motion-capture systems tracking each party and the Elfoid on the other end replicating their movements and gestures. The initial prototypes can't actually move themselves, but future versions will get motors and shape-memory components allowing them to move facially and twitch their rudimentary limbs.
The keypad is built into the chest, but there'll be a voice and gesture based control system for more complex feature navigation. Other hardware includes a temperature sensor and accelerometer. A fully-working model is expected to be finished within five years.
[via Pink Tentacle]