Elegant Toshiba TS32 Mobile Phone Announced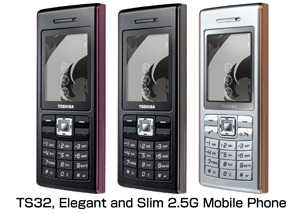 If you're in Hong Kong, you're in cellphone heaven and you know what I mean.  Toshiba Corporation recently announced the Toshiba TS32 and it's currently available through SmarTone-Vodafone in Hong Kong.  With the success of modest and not over-the-top cell phones, manufacturers are going with an attractive, candy-shaped model and the paying customers overwhelmingly approve.  The GSM TS32 phone will include the standard features, but the press release states its compatibility with advanced services; also called EDGE along with various other names.
As featured above, it comes in Lunar Graphite, Desert Gold, and Midnight Purple and it doesn't weigh much.  The 1.3 mega pixel camera is far below impressive with the standard digital zoom. The TS32 features SMS, MMS, email, Bluetooth, WAP 2.0, a microSD slot, and an FM radio.  Honestly, a standard phone with minimal features given the data available but it looks nice and the Desert Gold model is worth having if you wear beige pants to a dinner party.
Price: $500-$600
New Toshiba TS32 Mobile Phone [Via: Toshiba.co.jp]