Electrical implant allows paralyzed man to move his legs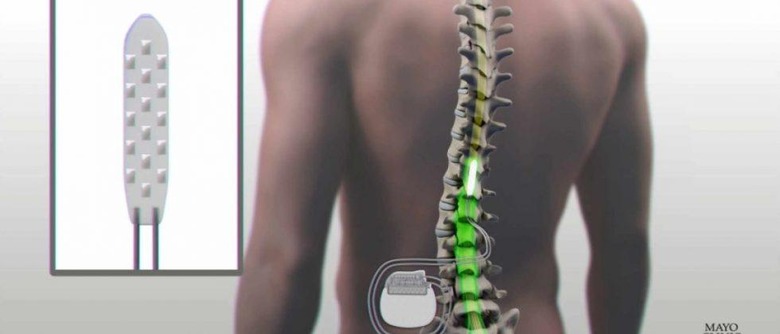 There isn't usually much doctors can do after a spinal cord injury that results in paralysis, but a new breakthrough from Mayo Clinic may give reason to hope. The clinic reports that an electrical implant placed near the site of a spinal cord injury allowed a paralyzed patient to make voluntary movements with his legs, which is a pretty big breakthrough.
Of course, it isn't quite as simple as that. The 26-year-old man in question injured his spine three years back and has since been unable to move anything below the middle of his torso. As Science Daily reports, doctors at the Mayo Clinic suspect that this man's injury is discomplete, which if confirmed would mean that his injuries may not have severed all of the connections to his spinal cord.
That part will come into play a little later. The patient went through 22 weeks of physical therapy before this electrical implant was attached to his spine below the point of injury. After recovering from surgery and a little more physical therapy, doctors began to see progress in his paralysis.
With the implant attached, the patient was able to move his legs and make stepping motions while laying on his side and even stand up using hand-held support bars. That's impressive on its own, but the fact that he was able to do this within two weeks of resuming physical therapy makes it even more incredible.
Obviously we still have a long way to go before spinal injury patients who suffer from paralysis regain full motor control, but it has Mayo Clinic researchers excited for the future. They now think that implants like this can help people with discomplete injuries regain at least some movement, which sounds like a great springboard to more research.
More detailed information can be found in the paper "Enabling Task-Specific Volitional Motor Functions via Spinal Cord Neuromodulation in a Human With Paraplegia" as written by Peter J. Grahn, PhD; Igor A. Lavrov, MD; Dimitry G Sayenko, PhD et al. This paper can be found under code doi:10.1016/j.mayocp.2017.02.014 in the scientific journal Mayo Clinic Proceedings.