Electric 1981 Chevy Camaro drag car runs 10.08 in quarter mile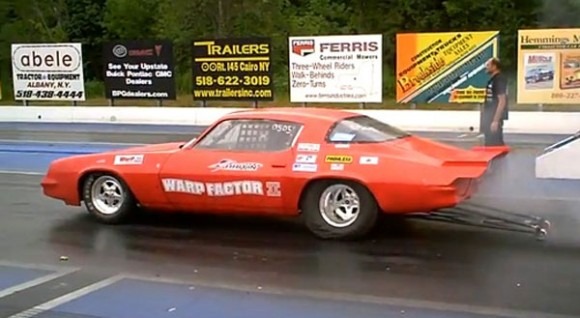 Electric cars are generally not that cool when it comes to an enthusiast's eye. The enthusiast wants something fast that is lots of fun to drive. I think most enthusiasts would agree that a Prius or a Leaf isn't something that they find particularly exciting for a performance standpoint. As close as an EV has ever come to exciting for me was the Tesla Roadster.
Some green drag racers have made an EV that is very impressive though. They used the body from a 1981 Camaro and rather than throwing a race fuel swilling big block V8 under the hood, they used batteries and electric motors. The car is dubbed Warp Factor II and it was able to put down a time of 11.23-seconds on a single electric motor running, the car has two.
When the gang at Team Haiyin EV Racing got the second motor working correctly they headed back to the track at Lebanon Valley Dragway and put down a time of 10.08 seconds at 127mph. The fastest electric drag racer in the street body class is a modded electric VW Bug that has put down a fast time of 9.51 seconds in the quarter mile. For a bit of comparison the Bugatti Veyron can run the quarter mile in the mid 10-second range and it needs 1001 gasoline fueled horsepower to accomplish that feat.
[via Autoblog]