Elecom Class-6 SDHC is waterproof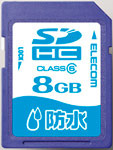 We've seen plenty of flash storage based electronics devices with waterproof feature, hardly the storage itself. The Japanese looks to break the trend with the introduction of waterproof SDHC memory cards. A SDHC card is more likely to float if it's accidentally dropped in the water but the Elecom-made SDHC is more than H20-friendly; as a IPX7 compliant device, it will withstand accidental immersion in one meter of water for up to 30 minutes.
Besides waterproof; the Elecom is Class-6 standard, meaning it offers real-time recording directly to the card with a guaranteed minimum write speed of 6MB/sec and a data transfer rate of up to 15MB/sec.
Elecom waterproof SDHC is available in 4GB and 8GB capacity. Mum's the word on pricing information but it is slated to ship in December.