EKING M1 MID: WiMAX, GPS, HSDPA and full QWERTY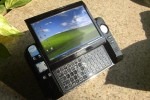 Chinese firm EKING are apparently preparing to sell the M1 MID – previously advertized as the Wibrain M1 MID – complete with 1.33GHz Intel Atom Z520 processor, WiFi b/g, Bluetooth and GPS.  The Mobile Internet Device, spotted in its new incarnation by Pocketables, is believed to have a 4.8-inch touchscreen display running at 1024 x 600; it doesn't skimp on connectivity options either, with EKING giving it WiMAX, HSDPA and a digital TV tuner.
While full details are relatively scarce, piecing together what EKING suggest and what Wibrain previously revealed would indicate that the M1 has 1GB of RAM and an unspecified amount of solid-state storage.  It measures 7.6 x 3.2 x 1.1 inches and weighs in at 1.2 pounds.
Other specs include a 1.3-megapixel webcam and a broad choice of input methods that includes not only the touchscreen but a touchpad, full QWERTY keyboard and mouse, as well as handwriting recognition.  No pricing or availability details have been suggested.