Eken M003 Android eReader surfaces with color LCD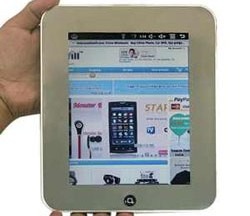 With the Apple iPad blowing up right now the sheer number of competing tablets with similar functionality coming to market is vast. It seems like every day there is another new eReader coming that offers a feature set like the iPad.
The latest of these iPad competitors is the Eken M003. The M003 has an 8-inch LCD in full color and runs Android as the operating system. With Android built-in the device can surf the web and lots more via a WiFi connection.
The M003 is priced at $240 and has a SD card slot that works with cards up to 32GB allowing for lots of storage expansion. You can check out the video demo of the Eken M003 below.