Eizo FlexScan S2242W-H and S2232W-E: 22-inch color-accurate LCDs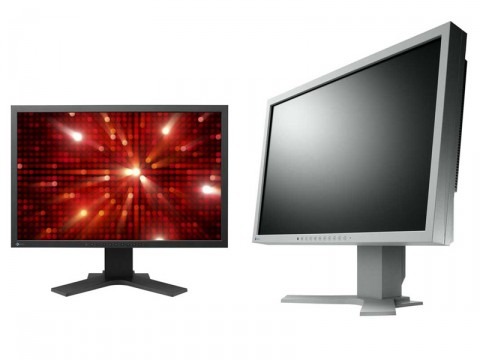 Eizo have announced two new 22-inch monitors, each covering 95-percent of the Adobe RGB color space and 92-percent of the NTSC space.  The FlexScan S2232W-E, which runs at 1680 x 1050, and the FlexScan S2242W-H, which runs at 1920 x 1200, are tipped as ideal for graphics professionals; each can accept either VGA or HDCP-compliant DVI input, and they both support 10-bit hardware LUT.
It's not just color that's impressive, though.  Static contrast is 1,200:1, while black to white pixel response time is 12ms; grey to grey is a mere 6ms.  There's an auto-adjusting backlight that can save power, together with a specific user-selectable economy mode.  Each display can rotate 90-degrees for use in landscape or portrait orientation.
Other connectivity includes a two-port USB hub and an audio input for the onboard 1W stereo speakers.  Still, these LCDs really are all about image quality, and that's reflected in the price: when they go on sale in Japan on February 5th, the WSXGA+ S2232W-E will retail for the equivalent of $705, while the WUXGA S2242W-H will go for around $784.  No release outside of Japan has been mentioned as yet.