Einstein archives hit the web to share knowledge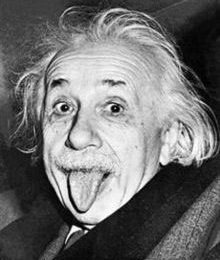 Albert Einstein is one of the most famous scientists in history and developed some of the most important theories science has today. Einstein died almost 60 years ago, but his contributions to science continue long after his death. Over the next few years, a complete archive of all of Albert Einstein's groundbreaking work will be placed online for the first time.
The data is being made available to anyone by the Hebrew University of Jerusalem. The university is the curator of Einstein's volumes of private and professional research notes, diaries, scientific writings, correspondence, and lots more. In all the archive has about 80,000 items that have only recently been catalogued. The information has also been cross-referenced for easier searching.
The data is being placed online with help from a grant given to the university by the Polonsky Foundation UK. Einstein's personal collection will be placed online and high-resolution image format. A portion of Einstein's collection is already online with visitors to the online portal having access to about 2000 documents representing Einstein's life through the year 1921. The archive includes the original 1916 manuscript outlining the general theory of relativity.
[via PCMag]