Eight Smart Mattress has four foam layers and one layer of tech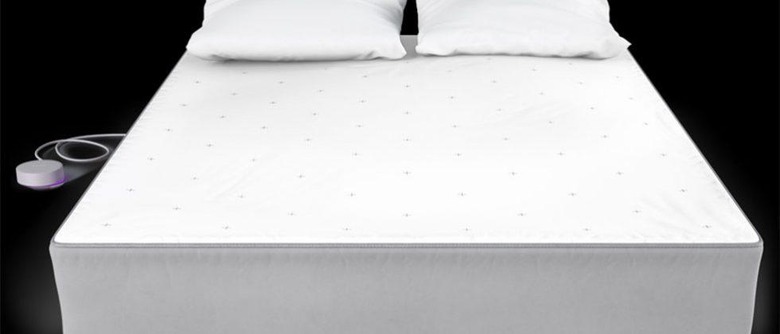 Everything is going smart these days, it started with our phones years ago and more recently our watches. Today even your mattress is getting smarter in an effort to help you sleep better. I think we can all get behind tech that helps us to sleep better and wake up more refreshed. The Eight Smart Mattress has four layers of high-density foam and a technology layer that is able to track sleep.
The four foam layers include 2-inches of reactive foam, 2-inches of memory foam, 2-inches of transition foam, and 4-inches of high density support foam. Each side of the bed can warm itself individually, which is great if you live in a cold environment. The bed can also connect to other smart home devices. The bed was designed after studying over 1.8 million hours of sleep data that was gained via the Eight Sleep Tracker, the first product from the company.
"We used anonymized sleep data and the feedback of over 10,000 people, to understand which materials and types of mattresses give customers the best sleep," said Matteo Franceschetti, CEO at Eight. "Based on our research, we saw an opportunity to create a better mattress. So we designed one with a unique blend of four responsive and high density foam layers that provide optimal comfort and support, plus one layer of our proprietary technology that helps people track and improve their sleep."
Features of the mattress that aim to improve sleep include the automatic temperature control for each side of the bed. The bed can also connect to smart thermostats, lights, and coffee machines. The thought of a bed that can connect with your home thermostat to turn on the heat if you get too cold is pretty cool. The tech will display information on an app that runs on your smart device that will give you tips on sleeping better.
The Eight Smart Mattress is offered in full, queen, king, and california king. Pricing starts at $950 for the full, $1050 for the queen, $1150 for king, and the same $1150 for the california king. Shipping is included in the cost of the mattress.
SOURCE: Eight Sleep