EHang 184 manned drone to flight test in Nevada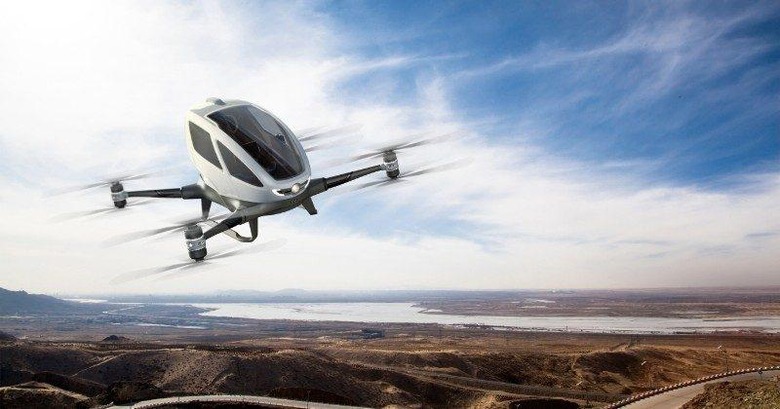 The last time we talked about EHang the company was showing off its EHang 198 automated flying machine. The drone aircraft looks like a quadrotor you might use to fly your GoPro into the sky for aerial shots, but is sized to allow human passengers to climb aboard and take flight. The idea is that the EHang automated drones could pick people up, the person could enter a destination with a smartphone app, and takeoff.
EHang is headquartered in Guangzhou, China and is working with the Nevada Institute for Autonomous Systems, a state nonprofit group that is sponsored by the Governor's Office of Economic Development. That state agency is working with EHang to develop and test its aircraft and systems.
EHang plans to move a small contingent of people to Nevada and there is no indication of if the company will have a permanent presence in the area. As of now, there is no timeline for testing operations.
"We first met them at the (International) Consumer Electronics Show in 2016," said Mark Barker, the institute's business development director. "Tom Wilczek (the defense aerospace industry representative at the governor's economic development office) and I were there and we went into their booth and we saw this EHang 184 — it caught everybody's attention."
"We will help them submit necessary test results and reports to the FAA and all that kind of stuff," Barker said. "It's a big deal for EHang and it's a big deal for NIAS and the state of Nevada because we will be helping them to test and validate their system."
EHang expects to being testing in Nevada later this year. The company says that it is in the process of choosing a testing location right now. It needs a combination of both restricted and unrestricted airspace, location plans will be firmed up in about a month according to the company.
SOURCE: ReviewJournal