EFix USA preps built-ready Hackintosh desktop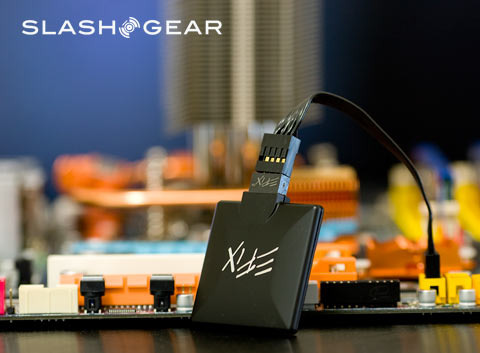 Speaking of hackintosh; some of you probably heard of EFix, an USB-based dongle that permits a retail DVD installation of OSX with compatible PC hardware. In fact, I'm running one on a PC system that has been though XP, Vista and now is EFix-powered MAC OSX. Does it work? Yes, buggier than previously Vista-powered system but it boots and craps out as usual. For those that aren't preferred to go though lengthy time of putting together PC parts and pieces, but anxious to get a taste of Mac-clone, you'll get your wishes; Efix USA (Not the official manufacturer of EFI-X) readies desktop featured an OCed Quad core processor will get officials as soon as early next week.Update : EFI-X reseller EFIX USA said they will NOT be selling the system after all. EFI-X (the manufacturer of the USB dongle) has made it clear that they do not support system builder that uses EFI-X.
The EFix Millennium 4 will feature a Core 2 Quad processor overclocked to 3.8GHz, 4GB of RAM, a GeForce 8800 GTS video card, dual DVD drives, Raptor 150GB 10,000RPM drive and a 1TB 7,200RPM secondary drive in the Antec P180 case for $1,899 (plus the additional cost of a $199 EFi-X dongle).
The system is said to be capable of delivering 90 percent of the performance of a top-end Mac Pro at half the price. (but appears twice as ugly to a Mac Pro). Faster systems based on two, four, and six quad-core processors should be available in two months. The high-end Millennium 24 will feature six 2.13GHz Xeon L7455 chips, trade raw clock speed for multi-processor support.