Eee Pad Transformer 2 pre-order listing surfaces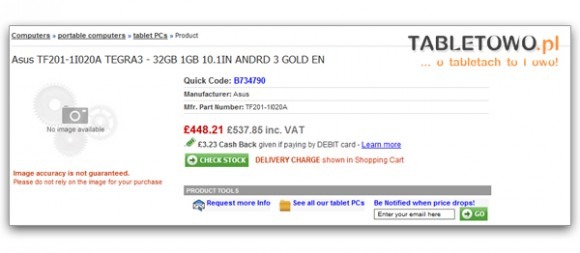 It's not uncommon at all for products to turn up on pre-order early in the tech world. Often we see them up before the products are officially announced and before the pricing is known. I mention all that so you take this with a grain of salt. A pre-order page has turned up for the Asus Eee Pad 2. We have written about that tablet before went the CEO said the release was imminent.
The tablet has turned up carrying the part number TF201-1I020A. The part number for the original Eee Transformer was TF101 so this lines up. There is no photo attached to the pre-order listing. There are a few specs listed on the pre-order page.
The page says that the tablet has 32GB of storage, 1GB of RAM, a 10.1-inch screen, and Android 3.0. The processor is a Tegra 3 unit, which is impressive. The price listed works out to $841 when converted, which seems expensive. The tablet is expected to ship November 7.
[via Tabletowo]