EE Robin Tablet aims at kids on the go, packs quad-core processor and LTE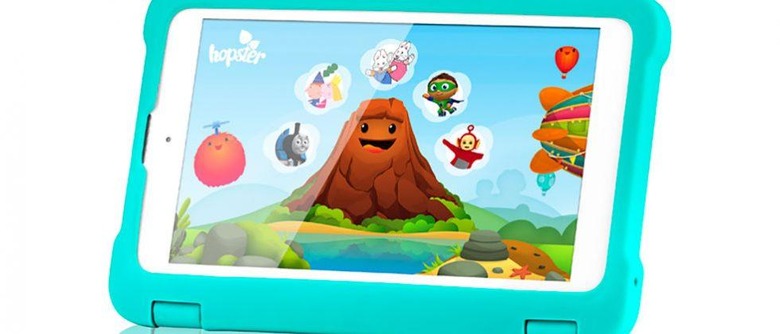 EE has announced the next-generation Robin tablet for kids is now available. The new Robin tablet has 4G connectivity and is enclosed in a rugged bumper case to protect the tablet from drops and bumps. The new Robin tablet has singleplayer and multiplayer motion gaming and an improved Hopster entertainment and learning app.
Robin also gains a new kickstand making it easier to take with you on the go. EE ships Robin with over 40 games installed along with educational apps and eBooks. Among the apps are games like Subway Surfer and Motion Sports. Motion Sports uses the integrated camera to allow kids to play with motion gestures.
The tablet can download games and apps via the Google Play store with new apps needing approval from parents before being installed. Robin also brings free access to Hopster, a playroom app for kids under six with episodes of kids shows, learning games, and songs. Parental controls are easy to use and manage to keep kids away from content you don't want them accessing.
Hardware inside the tablet includes a quad-core processor, 2GB of RAM, and 16GB of storage. Storage can be expanded to 32GB via a microSD card. The screen is a 7-inch unit and the integrated camera is a 2MP rear-facing unit. The tablet will launch in the UK starting today and can be had on a range of plans starting at £17 monthly. A plan at £22 monthly gets 20GB of data with roaming and 24 months of free Hopster. The Robin costs £129.99 on Pay as you go and has free Hopster for three months.
"Last year we introduced the world's first 4G tablet for kids which proved extremely popular in the run up to Christmas. So this year we've given the Robin a makeover, to ensure it is once again the perfect gift for parents who want a tablet which can provide their children with hours of entertainment and e-learning in a protected online environment," said Sharon Meadows, Director of Devices at EE.
SOURCE: EE