Edison Mail released for Mac, with invites, Windows in 2020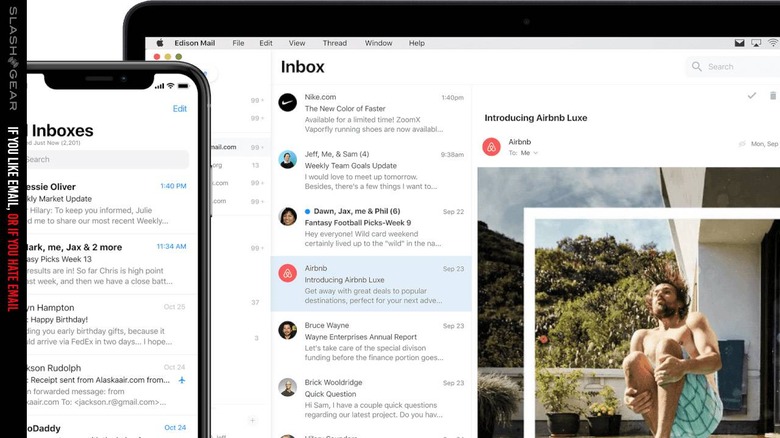 Independent email app Edison Mail was released today for Mac. This system extends the abilities of the mobile apps for Edison Mail (iOS and Android) to the Apple desktop computer with MacOS. It's not a mobile app simply retrofit for the desktop environment, but a new desktop-based email app "engineered from the ground up to eliminate common frustrations with desktop email." This app is available "by exclusive invitation to current Edison Mail users."
Edison Mail for Mac works with all manner of email accounts, including iCloud, Outlook, Yahoo! Mail, Gmail, and others. Users will find the One-Click Unsubscribe from junk feature as well as the the automatic Read Receipt Blocking feature. The latter feature can stop email advertiser systems from tracking the app/system with which you open an email and whether you've opened any given email.
This desktop version of Edison Mail includes One-Click Unsubscribe from junk. It has a Dark Mode. It has Swipe Gestures (which you can use with your mouse, or if you've employed one of several creative ways to control your Mac with a touchscreen surface.) This initial release will be expanded with "several more updates" in the year 2020 "and beyond."
So assuming you're already an Edison Mail user on your phone or tablet, you'll likely find an invitation to the desktop app in your inbox right now – or very soon. If you've never used Edison Mail before, you can head over to the Edison Mail webpage and sign up for an invite. Nothing better to get people interested in attaining an app than putting a line out the door!
For users on Windows devices, "Edison Mail for Windows will be released in 2020." There's also a new version of the Edison Mail app for iOS and Android with "Assistant" for previewing "your upcoming meetings, travel, bills, missed calendar invitations, and forgotten subscriptions all in one place."