Edge DiskGo - 32GB flash drive for just $399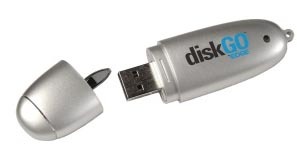 I carry around a 2GB flash drive, which is plenty of room for most things that I need to keep with me. For everything else I have a small external hard drive that does the trick. However, for those of you that feel the need to have something more portable than an external drive without being limited to a small capacity, you do have options.
While 32GB flash drives may not be something that is entirely new, EDGE Tech Corp has released their new DiskGO Flash Drive that has a feature no other competitor can touch: its price.
The DiskGO retails for $399.95, which compared to similar drives, is a real bargain. It may not be the best-looking flash drive on the market, but in this market, size is all that really matters.
Edge DiskGO Flash Drive Gets Bloated with 32GB of Memory [via mobilemag]