ECS G10IL ultraportable: promising, but still too many questions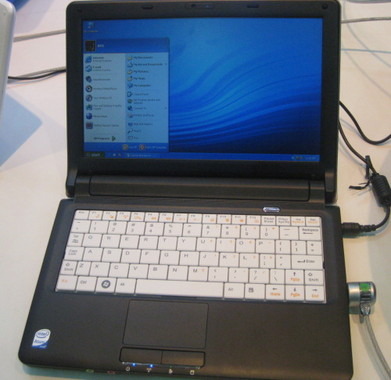 Although it can sometimes be tricky telling the difference between all these budget ultraportable notebooks, ECS' G10IL always had the distinguishing factor of coming with 3G HSPA as standard.  While an April launch was originally slated, for one reason or another – an Atom delay, perhaps? – it's yet to hit the market.  Laptop Mag caught up with the Eee-rival at Computex and had enough time to form some rough impressions: they're putting a slow startup down to it being a pre-production model, but to me the biggest issue is the horrible black-casing-white-keyboard color scheme.
Thankfully there's also an all-silver/white version which is less jarring.  Under the G10IL's hood is the 1.6GHz Intel Atom CPU, a choice of SSD or HDD, 8.9-inch or 10.2-inch displays (though the demo model at Computex had the larger screen) and a 1.3-megapixel webcam.  The HSPA connectivity, which Laptop Mag didn't seem to find, is meant to be triband and thus functional in the US, Asia and Europe.
Price is still a mystery, though if they follow through with their standard WWAN stance then it's unlikely to be as competitive, say, as the new ASUS Eee 1000 or the MSI Wind.  Still, more options are good, and there's the possibilty for ECS to pull something special out when it comes to the confirmed spec-list.  Adding, say, a chunky SSD as well as HSPA would make for a convincing argument against the SSD-blessed Eee 1000.possibility