ECS G10IL is officially a go - on sale sometime in April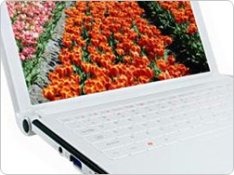 This Eee competitor is more inline with ASUS' newest offerings, but this notebook will be available a bit sooner than the new Eee. It has 3G, choice of SSD or HDD, and choice of 8.9 or 10.2 inch displays.
The 3G comes in the form of a tri-band HSPA modem that works in the US, Asia, and Europe. You also get a 1.3MB webcam and your choice of 4 of 6 cell batteries.
It also features Intel's Atom processors. Honestly, I have to say, it even looks a bit more attractive than the Eee. No word on price right now, but I am sure that will come as the April launch date approaches.
[via Ubergizmo]