Ecocapsule is a sustainable egg-shaped house the size of a car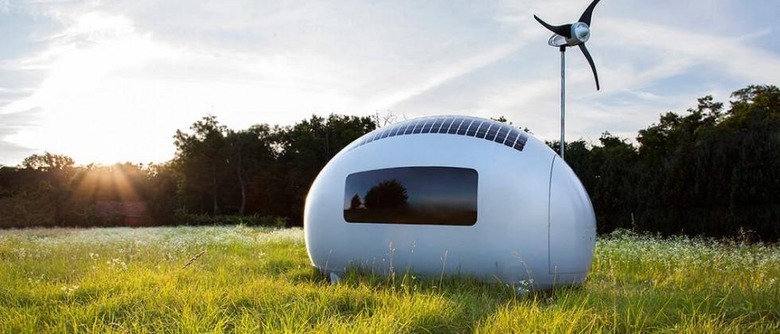 It may not seem like it, but the small, egg-shaped construction seen here can actually be lived in like house, despite being even smaller than a typical New York City apartment. It's called the Ecocapsule, and it's made for total off-the-grid sustainability. It features dimensions of 4.46 x 2.25 x 2.60 m (14 x 7.3 x 8.5 ft), and only offers 6.3 sq m (67.8 sq ft) of usable floorspace. Most people probably wouldn't want to live in it, but with power, water, a toilet, and a stove, they could certainly try.
The shell of the Ecocapsule is made from fiberglass, with the top covered in solar panels, and a wind turbine for generating electricity. Inside users will find a large window to provide a view of the outdoors, along with a desk, a double wide bed, storage compartments, a combined shower/toilet space, and a single stove cooker.
The Ecocapsule's shape causes rainwater to roll down its sides and into a collection/filtration system connected to two water tanks. This provides water for the shower and sink, as well as the optional mini-washing machine. Other extras offered include a mini-fridge, mosquito net, and folding sunshade.
Fortunately the capsule can be connected to a trailer attachment, allowing it to serve as portable living space. There's even external water and electricity connections for those who don't want to go totally off-grid.
Those interested in taking minimal living to the extreme can pre-order an Ecocapsule now, however it requires a non-refundable €2,000 (about $2,170) deposit, with a final price of €79,000 (US$85,500). Unfortunately there's only 50 available, and it's not expected to be delivered until late 2016 or early 2017.
VIA Gizmag
SOURCE Ecocapsule