ecobee3 smart thermostat can now be bough from Apple Store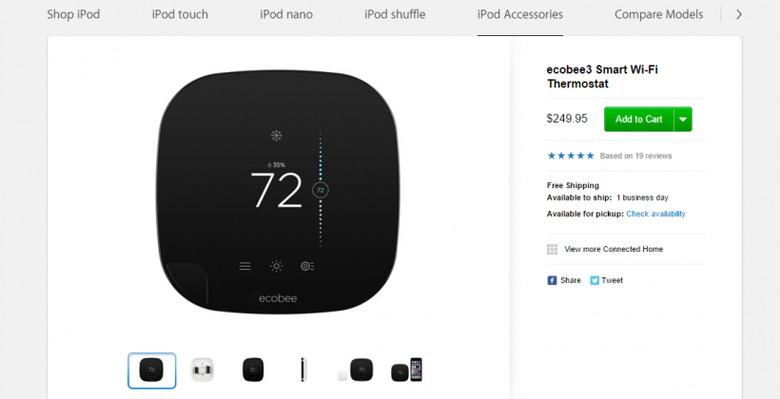 Brace yourselves folks. The tech giants are bringing their turf wars out of your pocket and into your homes. Apple has now just started to carry in its online Store shelves the ecobee3, the latest smart WiFi thermostat from ecobee, who market themselves as the original smart thermostat. This can be seen as another direct competition between Apple and Google, as the latter's Nest Learning Thermostat is also being sold through Google Play Store. Let the smart home wars begin!
Of late, Nest has been the focus of much media coverage, especially after its acquisition by Google. Nevertheless, it isn't the only game in town, and neither is it the first. ecobee has been nibbling away at that market since 2008, before Nest and somewhat before smart appliances became as fashionable as they are today. Last September, ecobee returned to the scene with their latest thermostat, the ecobee3, designed to learn in a faster and more efficient way.
Unlike majority of smart thermostats that measure the environment around the thermostat only, ecobee3 employs the use of remote sensors that can be deployed in rooms or areas that matter the most, while the main unit itself sits (or sticks) in a more strategic location. One ecobee3 comes a free remote sensor but you can fit as much as 32, if you really need that many. ecobee3 is also touted to learn from user preferences and habits a lot faster, almost instantly, compared to the days or even weeks of its rivals.
The arrival of the ecobee3 in the Apple Store, curiously as an iPod accessory, hints that Apple is eying another market, which coincidentally is also a market that Google is playing in. Aside from smartphones, the two have started battling it out in smartwatches, in-vehicle infotainment systems, and, more recently, fitness and health. Home automation seems to be a likely new arena and this clash of titans could also boost interest and investment in this industry as a side effect.
SOURCE: Apple