EchoStar SlingLoaded HDS-600RS hands-on [Video]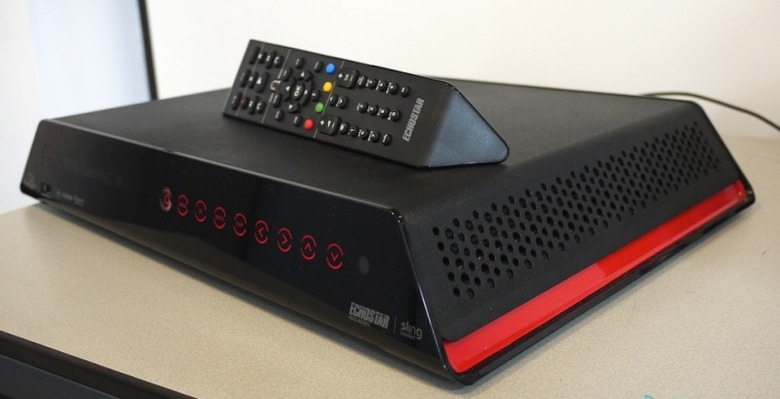 How smart can a set-top box get? If EchoStar are behind it then the answer is pretty darn smart indeed; the company's new DVR, the EchoStar SlingLoaded HDS-600RS, pulls together not only live TV recording and time-shifting but media shifting using Slingbox technology. Initially intended for the UK freesat+ system, the HDS-600RS promises to push live and recorded content to your iPad, laptop and smartphone whether you're at home or on the move. SlashGear caught up with the EchoStar team to find out more.Video demo after the cut
The HDS-600RS does a lot, and there's plenty of box to accommodate all that too. Measuring in at a hefty 386 x 280 x 58 mm, it follows the usual trapezoidal Slingbox style with red highlights. Up front is a 16-character LCD display and a row of nine touch-sensitive buttons, along with a USB 2.0 port and Smart Card reader. On the back, meanwhile, there's HDMI, two SCARTs, S/PDIF digital audio, RCA audio, another USB port, 10/100 ethernet, twin RF inputs and the power port.
Inside, meanwhile, there are two DVB-S2 freesat+ tuners – allowing the HDS-600RS to record two channels simultaneously, or show live TV while recording another program – together with a 500GB hard-drive good for up to 300hrs of SD content or 100hrs of HD. Regular 576i SD broadcasts can be upscaled in-box to 720p or 1080i.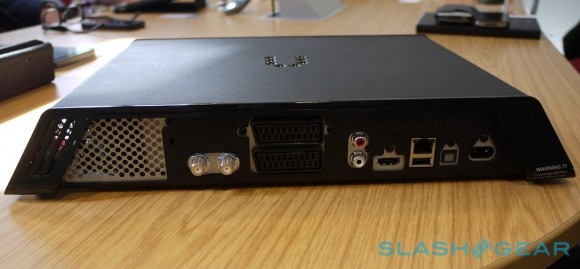 Rather than the more common – and more easily installed – Freeview standard, EchoStop opted for freesat+, which is subscription free but still demands a satellite dish be installed (or a leftover Sky dish be used). That, the company told us, was to bypass the "unregulated free-for-all" of budget Freeview boxes and DVRs as well as give the company more scope for launching the HDS-600RS hardware across Europe. With only minor – and relatively low cost – modifications, the DVR can be adapted to suit Germany, Italy, France and Spain, following the UK debut.
Of course the most interesting aspect of the new EchoStar box is its Sling functionality. Like the Slingbox Pro-HD, it can push content from its own tuners either within the home network or over the internet, using automatic quality-scaling to suit the capacity of whatever connection you're working with. The HDS-600RS is particularly targeted at multiroom media addicts; 55- to 60-percent of Sling users funnel their content around the home rather than outside it, and EchoStar expect the DVR to be popular with young couples and small families who want to be able to pause TV in one room and resume playback elsewhere without the traditional hassle of setting up a distributed A/V system.
EchoStar SlingLoaded HDS-600RS demo:
[vms 478145ecfbaf939454fa]
The Sling component works with the company's existing iPhone, iPad and Android apps, together with the web portal for notebooks and PCs. If you'd rather watch on a regular TV, there's the SlingCatcher; that comes with its own remote, but the software viewers show the same on-screen UI as the main HDS-600RS itself. Since that's being rendered on the DVR and then squirted over the wireless connection it can be a little slow to respond; we asked if there were plans to make a free-to-download remote app, similar to what Logitech and Sonos offer, to run on an iOS or Android smartphone, but currently EchoStar plans to stick with just the regular place-shifting apps.
That does mean you'll have to pay a reasonably hefty fee per mobile device. The iPad, iPhone, Android, Windows Phone 7 and other apps are $29.99/£17.99 each (though you can install the iOS versions on up to five devices, as long as they're registered to the same iTunes account) though the regular web portal is free. EchoStar is yet to confirm pricing for the HDS-600RS itself, though the box itself is expected to go on sale – initially in John Lewis retail stores and though Amazon online – from April 1, with pre-orders from tomorrow.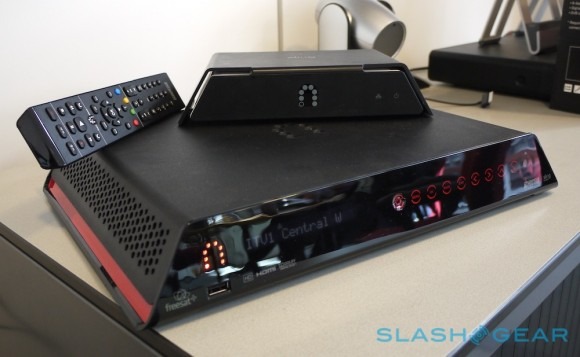 After that, EchoStar told us, they'd be looking to potential bundles, pairing the HDS-600RS with other Slingbox components. A "TV Two" style package is perhaps the most likely, with the PVR and a SlingCatcher. Meanwhile, the PVR itself is likely to see regular updates thanks to its expansible design; it will ship with BBC iPlayer support, and the company tells us other IPTV services will be added shortly after launch. Future plans could include pay-per-view or subscription streaming content, something which – when paired with Sling functionality – might mean an end to digital rentals going unwatched because they're stuck on one device in your living room. If the HDS-600RS is popular enough, a Freeview HD version could also be on the cards.
Press Release:
EchoStar Europe launches the world's first Freesat+ digital television recorder with SlingLoaded® TV anywhere

London – 22 March, 2011: EchoStar Europe (www.echostar-europe.com), a leading developer of added value, connected device solutions to the digital television industry, announce their SlingLoaded® HDS-600RS, the world's first HD digital video recorder (DVR) to combine Freesat+ features with Sling Media's (www.slingmedia.com) unique place-shifting ability, enabling TV anywhere, on all popular smartphones and tablets*.

The SlingLoaded feature enables users to watch and manage their live and recorded TV remotely anytime, anywhere, via 3G or Wi-Fi, with no additional monthly fees. With Freesat+, viewers get over 150 digital channels, including HD, On Demand services and the ability to pause, rewind and record TV, all subscription free. There's seamless access to catch-up TV including BBC iPlayer, with other connected TV services including ITV Net Player to follow.

Once connected to home broadband, the EchoStar HDS-600RS will Sling live or recorded TV anywhere, to your iPhone®, iPad® or Android™ smartphones or tablets, and any device supported by SlingPlayer® Mobile* (www.uk.slingbox.com/go/spm), even to your Mac® or PC via SlingPlayer® (which can be accessed for free, online at www.uk.slingbox.com). This ensures that you'll never miss a moment of your favourite show, movie or sports event ever again. Throughout your home or around the world, you can truly Sling your TV anywhere.

The EchoStar HDS-600RS delivers a host of viewing options; 'live pause and rewind', simultaneously watch one show and record another, and one touch series-link via the High Definition (HD) Electronic Programme Guide (EPG) all ensure that you'll never miss a show! The 500GB hard disk drive provides huge capacity to record up to 300 hours of Standard Definition (SD) programming or up to 100 hours of HD programming. You can even connect to a compatible Dolby® Digital home cinema amplifier, using the integrated Digital Audio Port, allowing you to enjoy cinema quality sound at home. All this is packaged in a stylish unit with a touch sensitive display.

"For TV lovers everywhere, this is the ultimate combination of subscription free TV anywhere meeting digital television recording and connected TV", said Rhod Williams, General Manager of Echostar Europe. "We're bringing together the strengths of EchoStar and Sling Media Inc. to create a hybrid device that will give people the ultimate TV viewing experience; what they want, when they want and where they want it. With this industry first we're making TV anywhere a reality that delivers an enhanced user experience to consumers, with no monthly fees."

Freesat Managing Director Emma Scott commented "This is a great partnership for us. It's our first foray into EchoStar's 'TV anywhere', and offers even more fantastic choice for our customers. Freesat has constantly evolved since launch and this paves the way for more exciting innovations in the future."

The product will be available for purchase online at Amazon.co.uk and in-store and online at John Lewis (www.johnlewis.com) from 1st April 2011. Consumers can pre-order from Amazon.co.uk from 23rd March 2011. Please see retailers' websites for the latest pricing.

For all of the latest product news and purchase information, please visit the new EchoStar consumer website www.myechostar.com.