EchoStar HDX-410 packs Android 4.0 for monster media (so who needs Google TV?)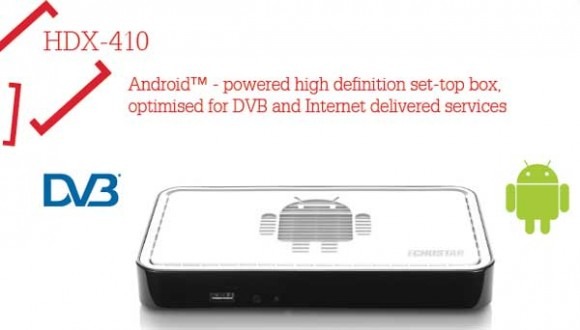 EchoStar has announced that it is expanding its portfolio of set top boxes powered by the Android operating system. The company has announced the addition of the new hybrid DVD and IP solution called the HDX-410. The set-top boxes designed to receive and deliver EDB and IP content and services around the home.
The device supports networking allowing it to be uses a multi-room solution. The set-top box supports both broadcast and on-demand TV along with smart TV applications. It also offers digital rights management and Miller solutions to protect content and meets European energy efficiency requirements with ultra-low-power consumption.
The HDX-410 uses industry-standard protocols and is able to interact other devices in the home to allow TV operators to extend services from a central gateway to other display devices on the home network. The box offers multiple connectivity options including HDMI, integrated Wi-Fi with 802.11n support, Ethernet, USB 2.0, and S/PDIF for audio output.
The box supports MPEG-2, MPEG-4, VC-1, and VP8 formats. The operating system on the set-top boxes Android 4.0 with support for Adobe flash. The box also has an integrated WebKit browser. As of now, there is no indication of what cable or satellite companies around the world will be using this Android-powered set-top box. EchoStar does say that it allows the user to pause, record, and rewind live TV with a simple USB hard drive upgrade. The box appears to have no internal hard drive.