eBay iOS app updates with driver's license scanning [UPDATE]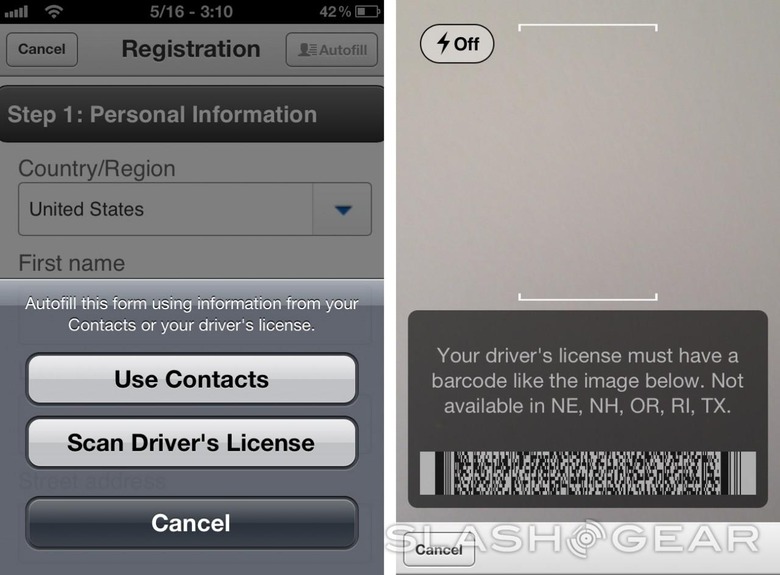 eBay updated its iOS app today with a few new features, including a new look and feel to the user interface, as well as the ability to check out multiple items at the same time using the shopping cart in the app. However, one of the more impressive features is the ability to register for an account through the mobile app by simply scanning your driver's license.
When you open up the app, you have the ability to register for an eBay account by either filling in a bunch of text boxes, or you can simply scan your driver's license to have the app do most of the filling out for you, such as your name, city, state, etc. Of course, privacy might be a big issue for some users, and while you're already submitting personal information their way, scanning your driver's license makes room for unnecessary information to get through.
UPDATE: We've received more info from eBay about its driver's license scanning feature regarding privacy, and they say that "only the name and address are pulled to complete the initial registration form. eBay does not send or store any other driver's license information."
As for the new UI, it's looks relatively the same from past iterations, but boxes and text are a lot smoother now and it looks a lot cleaner overall. And while Android users have been enjoying the new shopping cart where you can check out multiple items at once, that feature is now available to iPhone and iPad users, so they no longer have to deal with a mess of a shopping cart that past versions were plagued with.
The app also now comes with the ability to view larger photos, which have always been a bit cumbersome in the past when browsing through the app on a mobile device, and since photos are crucial in an eBay listing, it seems the company is finally giving them more attention. Other than that, you can expect the usual bug fixes and overall performance improvements to the app. Both the iPhone and iPad versions are available now in the iTunes App Store.