EA Sports FIFA Soccer 13 launches in North America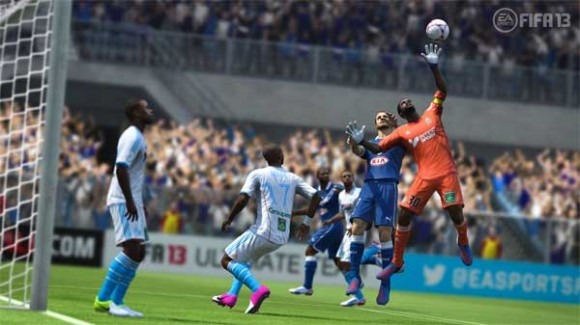 Soccer may not be as popular in the United States as it is in other countries, but there are hordes of dedicated soccer fans in the US that have been waiting in anticipation for EA Sports FIFA Soccer 13 to launch. This week marks the official launch for the game in North America. EA says that indications are that the launch of FIFA 13 will be the biggest sports video game launch ever.
EA says that over 1 million games have been pre-ordered worldwide and over 4.6 million fans worldwide have played the demo for the PS3, Xbox 360, and PC. That number represents 42% increase year-over-year worldwide. In the United States alone, 294,000 fans have played the demo. EA is also giving players the opportunity to become a world champion by competing in the FIFA Interactive World Cup.
The Interactive World Cup is one of the in-game modes. In the competition last year, more than 1.3 million registered players from all over the world competed in the Interactive World Cup. The game is launching in North America with lots of advertising via broadcast and digital medias with a cast of sports and celebrity icons.
The game is available on the PS3, Xbox 360, PlayStation Vita portable, Nintendo Wii, PC, PS2, Nintendo 3DS, and the PSP. The game will also be available for the Nintendo Wii U game console in November. EA also has versions of the game available for mobile devices such as the iPhone and iPad. The game is available to purchase right now.