EA launches mobile game to celebrate 30 years of E.T. The Extra-Terrestrial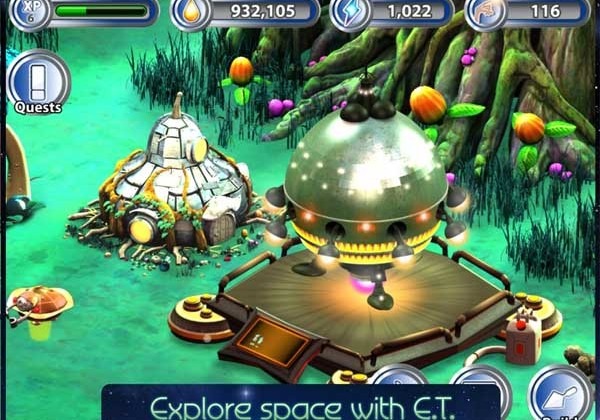 The last time I thought about a video game that had E.T. in it was back in the 80s when the Atari was the game console to have. It's hard to believe that we're coming up on the 30th birthday of the 1982 classic movie. To celebrate the anniversary, EA has announced that its subsidiary Chillingo is releasing a mobile game for iOS devices called E.T.: The Green Planet that features an interactive trip to E.T.'s home planet.
I'm sure I'm not the only child of the 80s who wondered what happened to E.T. after he climbed back on his round spaceship and headed home at the end of the movie. The game is available on the App Store right now and let's players journey through space with E.T. and ultimately return to his home planet. When E.T. gets home, he discovers that his planet is dying.
To save the planet, E.T. has to create gardens full of intergalactic plant life. E.T. can use his glowing finger of healing to breed new and exotic plant species. During the game, players will encounter E.T.'s teacher Botanicus and use Micro Tech workers to grow plants. Players will be able to collect artifacts from the movie and construct a communicator to enable contact with the earth.
The game also allows players to cross-breed seeds to create new plant hybrids and the game features original artwork and animations. Players can also visit gardens that their friends create via Facebook and twitter. This game is fully licensed and official.