EA and Ubisoft team up to share games on UPlay and Origin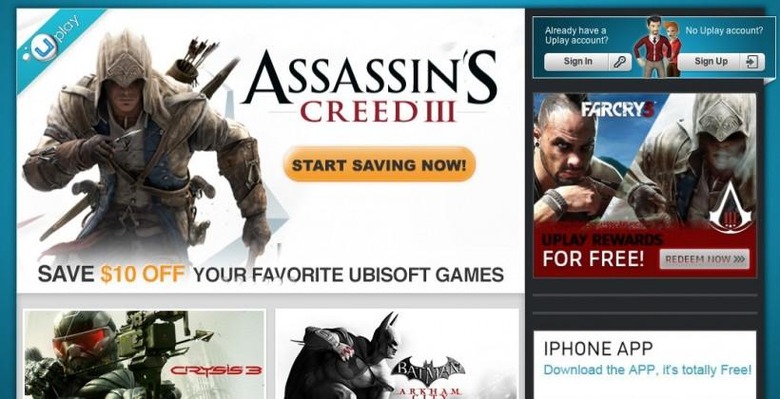 It looks like Electronic Arts and Ubisoft are taking the whole "embrace the competition" phrase to a new level. the two companies have announced that they will be offering each others' games on UPlay and Origin, meaning that you'll be able grab EA games on UPlay and Ubisoft games on Origin, something that we don't see happen very often.
UPlay will now offer a handful of games from Electronic Arts, Warner Bros., Bohemia Interactive, Telltale Games, Robot Entertainment, and more. This includes titles like Batman: Arkham City, Crysis 3, Orcs Must Die 2, The Walking Dead, and To the Moon. To celebrate the expanded library, Ubisoft is offering gamers a free game download if they purchase a game for $19.90 or more.
In return, EA is listing a handful of Ubisoft games on Origin, including Assassin's Creed III and Far Cry 3. EA has been offering third-party games on Origin for a couple of years now, but that doesn't lessen the excitement of even more games becoming available on the service, and this will no doubt instill a bit more confidence in gamers that game publishers don't have to be complete DRM fanatics.
In total, Ubisoft's UPlay will gain 25 games from 12 different publishers, and it'll allow the smaller indie games to get more exposure through Ubisoft's store, while also helping out Ubisoft itself grow its library of games. Of course, no other digital distribution service is quite up to par with Steam, so both EA and Ubisoft have a lot of catching up to do.
[via Ars Technica]