EA and Insomniac Games team for shooter Fuse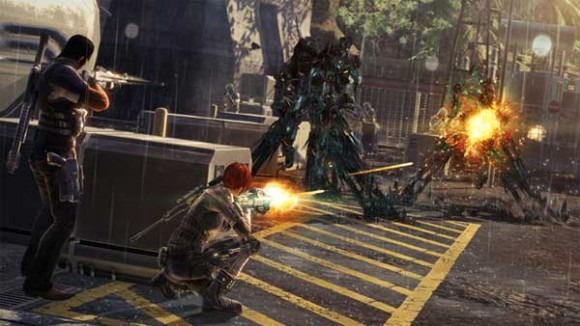 EA has announced that it has partnered with game developer Insomniac Games on a new four-person co-op action-adventure shooter called Fuse. This game was previously known as Overstrike. The game allows four people to play at the same time as one of four elite covert agents bringing unique skills and special experimental weapons to the fight.
In Fuse, players are able to choose to play as Dalton Brooks, Izzy Sinclair, Jacob Kimble or Naya Deveraux. The premise of the game is that the four warriors are fighting to protect humanity from a deadly alien energy source called Fuse. This game will be the first multiple platform launch from Insomniac Games and is scheduled to launch in March 2013 in North America and Europe.
Insomniac is the developer who created the franchises Ratchet & Clank and Resistance. While the game supports four players in cooperative play, lone players are able to fight using the game's LEAP feature to allow them to switch between all four characters at will during the fighting. The experimental weapons used in the game are powered by an alien substance giving capabilities to expand strategic options during combat.
The game also allows players to earn Fuse points for upgrades and players are able to level up characters and choose unique paths online and off-line. The level up allows players to unlock powerful Fuse-driven abilities as the game progresses. All four of the playable characters are members of a team called Overstrike 9 who are attempting to prevent a paramilitary organization from stealing a Fuse source of in a classified government facility. The game will be available on Xbox 360 and the PS3.